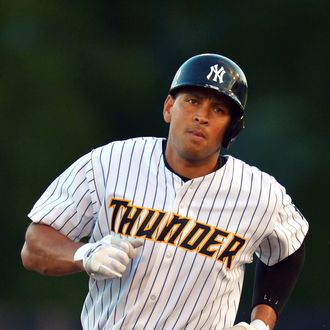 Alex Rodriguez, during his rehab stint in Trenton.
Photo: Drew Hallowell/Getty Images
Yankees fans reviewing the list of players suspended by Major League Baseball saw a handful of familiar names: Alex Rodriguez, of course, topped the list, but scrub catcher Francisco Cervelli was on there, too, as was Jesus Montero, once the jewel of the organization's farm system. For good measure, onetime Mets prospect Fernando Martinez, recently acquired by the organization, got a 50-game ban as well. It's not an altogether foreign feeling: In one of baseball's previous attempts to GET TO THE BOTTOM OF THIS STEROID BUSINESS™, the Yankees were well represented in the toothless but headline-grabbing Mitchell Report.
But do the Yankees really have a bigger PED problem than other teams? Not necessarily. Counting the number of accused — or, in today's case, suspended — players connected to a certain organization has never felt like a worthwhile way to assess the league's PED problem, though we'll admit we once did that ourselves. (In hindsight, the Mitchell Report was more an exercise in naming names — with the help of Kirk Radomski and Brian McNamee — than it was about getting to the bottom of anything.) Players change teams too often, anyway; simply counting the number of players who've worn a certain uniform can get messy.
Today's biggest loser happens to wear pinstripes, but A-Rod's involvement with Biogenesis says a lot more about him than it does about his employer. Have the Yankees had a problem with PEDs over the past decade? Yes, just like a lot of other teams. (It got overshadowed today, but the Rangers lost a pretty important player in Nelson Cruz.) PEDs are a league-wide concern, albeit one that isn't always well understood. (Too many people still mistake them for magic pills that can turn anyone into an All-Star.) They're not going away either. Today's PED poster boy is A-Rod, but someone new (if less accomplished) will come along and grab that title. Someone always does.