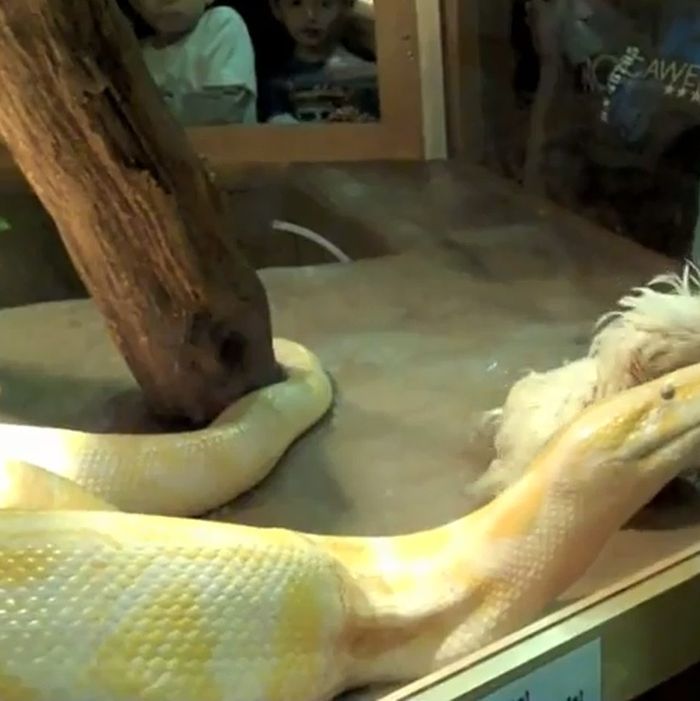 Fantasia, a captive twenty-foot-long albino snake, got out during feeding time yesterday in Brooklyn, giving a few kids and their parents an Anaconda-style scare. "So there I am with the kids watching a 300lb Burmese python being fed at The Children's Museum. The keeper opened the door to feed it another Guinea pig and the python just shot out, bit the keeper's leg and started to constrict around it. Every one screamed and ran," one witness wrote on Facebook. 
In a statement to Daily Intelligencer, the museum confirmed the incident. "Like at similar organizations that work with live animals, the unexpected sometimes occurs," said a spokesperson. "While being fed, Fantasia nipped her handler in the leg. Immediately, all visitors were cleared out, and the room was then secured. Our Animal Maintainers took the appropriate steps to return Fantasia to her enclosure within the hour."
In a bit of unfortunate branding, the Children's Museum has previously hosted an event called "Fantasia on the Loose!" to give visitors "the opportunity to have a close encounter with the archive's 20-foot-long ambassador." She's a frequent draw for field trips.
"We're happy to report that Fantasia and the Museum staff are doing just fine and have resumed their daily routines," the spokesperson added. "We look forward to welcoming families to experience the many exciting exhibits and programs that we're proud to offer Brooklyn and New York City community."
Here's Fantasia eating, brutally, as is her nature: