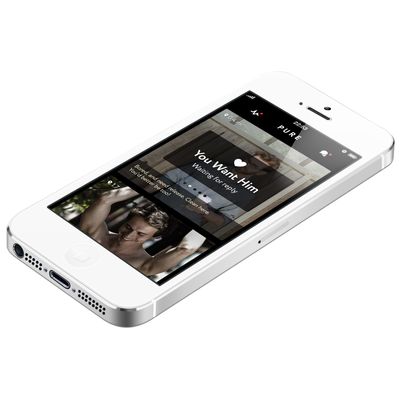 Photo: Courtesy of Pure App
In January of last year, Roman Sidorenko and Alexander Kukhtenko had an idea to break their sexual dry spells the way they solved many of their other problems: with an app.

"We wanted an easy way to find sex, basically," says Sidorenko. But the two friends (who describe themselves as "pomosexuals") were too impatient to use the available dating apps on the market, all of which required them to spend hours flirting with potential flings via chat or text message before getting a date and, possibly, sealing the deal. They knew there were horny people around them looking for sex — and nothing more — but had no way of figuring out where, and who, they were.

"We thought it would be cool to use an approach like Uber," Sidorenko says. "Where you basically create the request, and you get a car pretty soon. We thought it would be cool to have something like that to find a sex buddy."
From that brainstorm came Pure, a new app that brings the on-demand convenience of Uber or Seamless to the bedroom. On Pure, users designate their gender and the gender(s) of the people they'd like to sleep with, specify whether they are able to host or not, and are shown any other willing users in the surrounding area, each with an "Okay" or "No Way" prompt. When two users are mutually attracted, they're given each others' coordinates to meet up. There are no profiles, no lengthy chat sessions, and all unfulfilled requests vanish after an hour. Confidential user feedback keeps creeps at bay, and people who repeatedly no-show are banned.
Pure, which will launch next week pending approval by Apple's App Store ("we have a plan B," says Sidorenko), is the newest entry into one of the hottest subgenres of consumer tech: the minimalist hookup app. In olden days, people hoping to get their rocks off using the Internet had no choice but to try their luck on services like Match.com or OkCupid — which require them to fill out profiles, choose flattering photos, and spend hours crafting messages that likely went unread — or wade into the sketchy backwaters of Adult FriendFinder or Craigslist postings. Now apps like Tinder and Bang With Friends are offering itchy-fingered users the chance to cut out the chitchat and get down to getting down.
"People are becoming comfortable with a format of online dating that once sounded scary," says Dan Slater, author of Love in the Time of Algorithms. "If these new location-based, on-the-fly apps are largely for hooking up … perhaps more people out there are looking for quick sex than had been originally thought."
Easy hookup apps aren't new — Grindr has been a staple of the gay community since 2009, and there has been a parade of copycats in the years since — but the success of Tinder and Bang With Friends seems to have pushed the idea into the hetero mainstream and attracted the interest of high-profile investors. Bang With Friends reportedly raised a $1 million funding round and was seen as dangerous enough for Zynga to sue it for trademark infringement. Tinder is backed by IAC and is a perennial target of acquisition rumors in Silicon Valley. Pure, which is hoping to ride the wave, raised a seed round of $200,000, according to Sidorenko, and is currently soliciting additional investments.
"It's very interesting to see what Fifty Shades of Gray did for the pleasure-products industry," Sidorenko says. When that book became a monster hit, "it became okay to talk about BDSM stuff. It became okay to buy sex toys. This is the way the dating industry will be changed."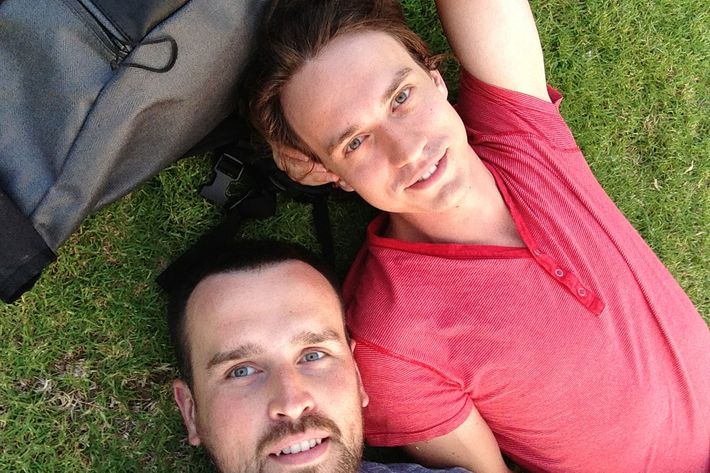 So far, minimalist sex apps have yet to find Fifty Shades–like appeal. Grindr's hetero-focused spinoff, Blendr, flopped upon introduction two years ago, and while gay-oriented apps like Scruff have sprung up with even simpler interfaces, none has eclipsed the original. But Tinder and Bang With Friends have gotten all genders and orientations interested, in part by appearing less sketchy than silly and spontaneous.
Part of the theoretical appeal of Pure and Bang With Friends is that, like Grindr, they cut the mating process down to its essential, primal elements — gender, age, appearance, location, availability — and remove the sting of rejection by showing users only the matches that have expressed interest in them, too. Unlike on Grindr, users aren't required to have or maintain separate profiles (Bang With Friends simply pulls information from Facebook), and on Pure, there is no "idle" or "away" setting, meaning that everyone using the app is presumably DTF at the moment of contact.
"Grindr is nothing but a traditional dating site," Sidorenko says. "To find someone for a hookup, you have to start a standard chat like, 'Hi, how are you, are you looking, can you host?' A lot of gay people we interviewed said, 'I wish I had a way to see who's looking to meet right now.'"
Of course, even the most bare-bones matchmaker will require some precoital communication. And the tremendous success of more traditional online dating services (IAC's Match.com, for one, made $205 million last year) proves that many people don't want to skip the foreplay.
"These apps are tapping into this perception that people are looking for casual sex, but most people are using these apps as a gateway to something longer term," says Lauren Kay, the founder of the Dating Ring, a start-up that pairs algorithmic date-finding with old-fashioned in-person matchmaking.
In addition to proving they're not just racy novelties, minimalist sex apps will have to figure out how to make money. Bang With Friends has no apparent revenue model at present, though it's easy to imagine a premium version that charged users for better matches. The founders of Pure, whose website and investor deck are filled with feminine imagery and sex-positive language, say they're starting out by marketing to "men who have sex with men," but hope to break into the straight, bi-, and polyamorous markets soon after launch. Their money-making concept centers on charging users $9.99 for a day pass, which allows them to submit unlimited requests for 24 hours.
Eventually, Pure's co-founders say they hope to be part of a cultural change surrounding online sex-discovery. They've enlisted female sexologist Carol Queen to help them reach women, and they're planning a series of marketing events at New York bars in the coming weeks. The goal is to get casual sex-seekers comfortable with the idea of skipping the small talk, avoiding the awkward bar drinks, and going right for the sack.
That will be easier said than done. "Everyone's trying to get on the online-dating gravy train," says Harry Reis, a professor of clinical psychology at the University of Rochester. Reis, who has written extensively about online-dating habits, is wary of the rise of minimalist apps, especially the ones that promise to arrange casual, spur-of-the-moment flings. Reis also points out that while society's attitudes about monogamy may be changing, that change doesn't necessarily mean that people will flock to spur-of-the-moment hookup apps for a quick fix.
"Just because a person isn't interested in monogamy doesn't mean they're interested in having sex with anyone and anything," he says.