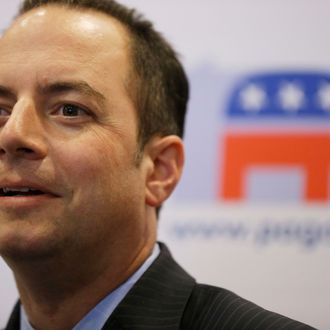 Republican National Committee Chairman Reince Priebus listens to a speaker during a news conference Thursday, July 19, 2012, in Philadelphia.
Photo: Matt Rourke/AP/Corbis
Last week, Reince Priebus threatened to stage a Republican boycott of any NBC and CNN primary debates over the networks' respective decisions to air a miniseries and a documentary on the life of Hillary Clinton. This weekend, the New York Times reported that Fox News sister company Fox Television Studios is in talks to produce the NBC project, but Priebus assured CNN's Candy Crowley that he didn't have a problem with that, since Fox's people would simply be assembling the offending project, not airing it. "I'm not interested if they're using the same caterer or whether they all drink Diet Coke and I'm not boycotting [miniseries star] Diane Lane," he said, to what we imagine was Lane's great relief.