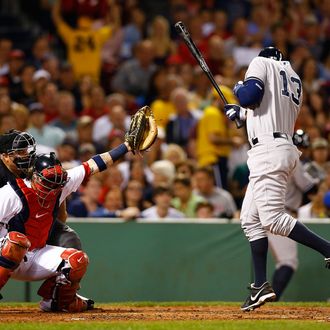 Alex Rodriguez.
Photo: Jared Wickerham/2013 Getty Images
The Alex Rodriguez circus has given us leaks and suspensions and all manner of accusations in recent weeks. Tonight, it also set up one of the best Yankees–Red Sox games in recent memory.
In the second inning at Fenway Park tonight, Boston pitcher Ryan Dempster drilled Alex Rodriguez with a fastball, three pitches after throwing behind him. You know how sometimes there's a debate over whether a pitcher intentionally tried to hit a batter? No one's claiming Dempster didn't throw at A-Rod tonight. (Well, except for Sox manager John Farrell, who gave a hilarious mid-game interview to ESPN in which he said he didn't think it was intentional.) 
A-Rod's eventually going to have his moment in front of an arbitrator, but baseball players like to police themselves sometimes. And so this hit-by-pitch was inevitable: Eventually, some pitcher would decide to take the law into his own hands. He'd decide that a suspension wasn't enough and that what A-Rod really needed, on behalf of the rest of big-league ballplayers, was a fastball between the numbers. Our money would have been on John Lackey being that pitcher, but alas.
Rodriguez, though, would get his revenge in the sixth, crushing a Dempster pitch for his second homer of the season. A-Rod clapped his hands together as he rounded first base, and while he's hit a lot of home runs in his life, we're betting that few were more satisfying. That's what I'm fucking talking about, indeed. (Even A-Rod-hating Yankees fans had to pump their fists at that homer. To Yankees fans, sticking it to a Red Sox pitcher is a good thing, always.) 
By the way, the only person ejected as a result of the hit-by-pitch was Yankees manager Joe Girardi. Dempster wasn't tossed for throwing at A-Rod, and Rodriguez didn't charge the mound, instead taking his base while a furious Girardi yelled at home-plate umpire Brian O'Nora. Both benches were warned, meaning that Yankees starter CC Sabathia couldn't throw at a Red Sox player without getting tossed himself. Someone, somewhere, will surely make the case that Sabathia's lack of action proves A-Rod's teammates weren't willing to stand up for him. It doesn't. The Yankees desperately need wins right now, and plunking David Ortiz — he of the reported failed 2003 PED test — doesn't help them get a victory.
The Yankees would indeed go on to win: After A-Rod's homer, they'd load the bases, and Brett Gardner's three-run triple gave them a 7–6 lead. They'd later tack on a couple of insurance runs and win 9–6.
We'll say this much: On a weekend that involved accusations of snitching and sabotage and talk of a "litigious environment," at least the latest act of the A-Rod soap opera took place on a baseball field. This is progress, sort of.