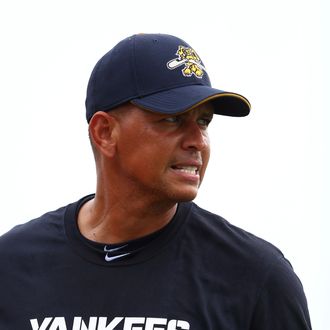 Alex Rodriguez.
Photo: Streeter Lecka/Getty Images
Over the winter, baseball writers — many of whom didn't pay attention to the issue of performance-enhancing drugs in baseball until it became impossible to ignore — took their big, symbolic stand against the sport's so-called Steroid Era, voting no one into the Hall of Fame, despite names like Barry Bonds and Roger Clemens appearing on the ballot. Now it's Bud Selig's turn to do something big: As a result of the league's investigation into Miami's now-defunct Biogenesis clinic, he's suspended Alex Rodriguez for 211 regular-season games (plus any postseason games), effective Thursday and lasting through the end of the 2014 season.
Selig — who's accomplished a lot as commissioner, but whose tenure has corresponded with the Steroid Era — also waited too long to react to baseball's growing performance-enhancing drug program. In recent years, he's tried to position himself as the ultimate anti-PED commissioner, telling anyone who would listen how tough baseball's testing policy is. But until now, Selig didn't have a defining moment in which he truly brought the hammer down on one of the faces of the Steroid Era. Iconic players like Bonds and Clemens and Mark McGwire were never punished by MLB and were left to congressional hearings and the judgment of the writers come Hall voting time. Manny Ramirez — one of the best players of his era, but never the face of baseball — twice failed a drug test but received only the punishment spelled out in the collectively bargained joint-drug agreement: 50 games for the first offense, and 100 for the second. Ryan Braun, a former MVP, got a 65-game suspension for his involvement with Biogenesis, but Braun isn't on the level of all-time greats like Bonds or Clemens.
But with A-Rod, Selig finally had someone he could make an example of — a legend he could take down, and a reputation (however battered it may have already been) that he could destroy. Selig had reportedly even considered punishing A-Rod using not the league's Joint Drug Agreement, but the "best interest of baseball" clause of the collective bargaining agreement, which basically gives the commissioner the power to do what he wants. (The rarely used clause is something of a vaguely worded catchall, though Selig has widened his interpretation of it in recent years.)
Using that clause would have meant that A-Rod had to sit out while he appealed his suspension. But Selig instead opted to suspend Rodriguez under two separate agreements: He's being suspended under the JDA for "use and possession of numerous forms of prohibited performance-enhancing substances, including Testosterone and human Growth Hormone, over the course of multiple years." And he's also being suspended under the Basic Agreement for attempting to cover up his violations and for interfering with the investigation. Baseball believes suspending him in this way allows the league to give out a harsher punishment than the agreed-upon number of games in the JDA: 50 for a first offense, 100 for a second, and a lifetime ban for a third. (Rodriguez, officially, has a clean record. He admitted in 2009 that he'd used PEDs, but the test he was reported to have failed came during the supposedly anonymous 2003 survey testing.) A-Rod is expected to appeal the suspension, and under the terms of the JDA, he's allowed to play in the meantime. He's expected to be in the Yankees lineup against the Chicago White Sox tonight.
A-Rod made for the perfect target for Bud Selig, PED crusader: He's got a known history with performance enhancers, admitting in 2009 that he'd used them, prior to the adoption of penalties. And he's loathed by many baseball fans, including some who cheer for the Yankees. It's why handing down a severe penalty to A-Rod is a safe move for Selig politically: For everyone who's worried for weeks that Selig would mete out a draconian punishment outside of the JDA, there's a stadium full of fans who love watching A-Rod suffer.
A-Rod was once considered the guy who could set the new all-time home-run mark, but do it cleanly, ending the debate over whether the record books need an asterisk. But by getting caught up in Biogenesis after largely surviving the 2009 PED revelation, Rodriguez was embarrassing the league. (Like Anthony Weiner, he's learning that you maybe can redeem yourself once, as A-Rod did in the fall of 2009 when he powered the Yankees to a World Series title, but the public won't give you a third chance.)
A-Rod avoided a lifetime ban, but he's still received the harshest PED punishment to date. And so even if A-Rod obstructed the league's investigation, he and his representatives will likely make the case that his punishment is excessive. Challenging the validity of the evidence could be tough, considering baseball's investigation into Biogenesis turned up enough for more than a dozen other players to accept suspensions without appeal. And so whether the appeal is successful would appear to hinge on how much leeway Selig has to punish players beyond the consequences spelled out in the JDA by using it in tandem with the Basic Agreement.
By the way, remember how the Yankees have been angling to get under the $189 million luxury-tax threshold for next season? That becomes easier now, though the suspension is a bit of a mixed bag for the team. They won't get rid of A-Rod's contract entirely — he's still signed through 2017 — but suspended players don't count against the tax threshold. And so if A-Rod misses the 2014 season, it'll help the Yankees dip below that number for a year, which has been their goal all along. And in the short term, they could use him in the lineup while he awaits a decision from the arbitrator: Third base has been a mess for them this season, and as a team, they've been historically bad from the right side of the plate. He'll be a traveling circus, no doubt, but from a baseball perspective, even a diminished A-Rod should help this year, for however long he's eligible to play. According to the JDA, his appeal would be heard within 20 days, and the arbitrator would be expected to rule within 25 days of the hearing's opening.