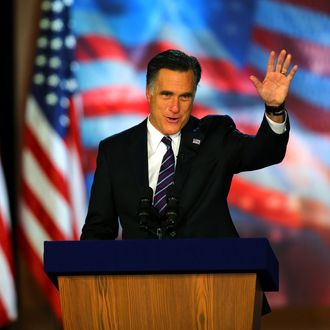 Republican presidential candidate, Mitt Romney, waves to the crowd while speaking at the podium as he concedes the presidency during Mitt Romney's campaign election night event at the Boston Convention & Exhibition Center on November 7, 2012 in Boston, Massachusetts. After voters went to the polls in the heavily contested presidential race, networks projected incumbent U.S. President Barack Obama has won re-election against Republican candidate, former Massachusetts Gov. Mitt Romney.
Photo: Joe Raedle/Getty Images
During his first political fundraiser since November, Mitt Romney offered New Hampshire Republicans some recommendations for 2016. "My guess is that every one of the contenders would be better than whoever the Democrats put up," he said. "But there will only be one or perhaps two who actually could win the election in November." Romney noted the irony of a losing candidate offering such advice, but said, "Because we all learn from our mistakes, I may have a thought or two of value." And after all, this is a man who stood on a stage with Michele Bachmann in a dozen debates.