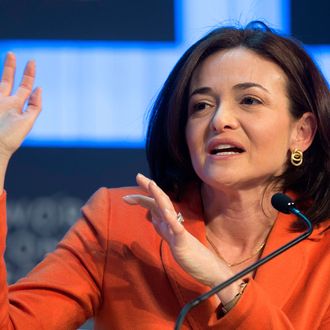 Sheryl Sandberg, Chief Operating Officer and Member of the Board of Facebook, speaks during a panel session at the 43rd Annual Meeting of the World Economic Forum (WEF) in Davos, Switzerland, 25 January 2013. The overarching theme of the meeting, which will take place from 23 to 27 January, is 'Resilient Dynamism'.
Photo: JEAN-CHRISTOPHE BOTT/Corbis
Now that Facebook stock has finally returned to its IPO price of $38, company COO Sheryl Sandberg sold 2.4 million of her shares for a grand total of $91 million last week as part of a pre-arranged trading plan, according to regulatory filings. (The Lean In author has cashed out portions of her stake in the world's popular social media platform platform before, including a $50 million sale after the company went public last May.) This most recent transaction involved just 5 percent of her total holdings in Facebook, which are currently valued at well over $1 billion.