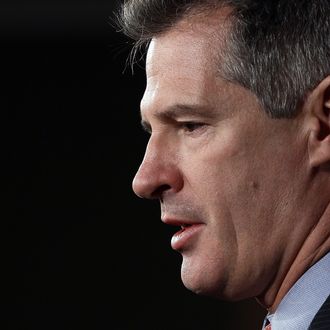 Photo: Win McNamee/2012 Getty Images
Following in the footsteps of Congressman Peter King, who basically admitted that the rumors about his possible 2016 run are just "an opportunity to get my views out," former senator and current attorney/Fox News talking head Scott Brown revealed on Sunday that he's considering a presidential bid."I want to get an indication of whether there's even an interest, in Massachusetts and throughout the country, if there's room for a bi-partisan problem solver," Brown told the Boston Herald during a visit to the Iowa State Fair.
Brown said talk of a 2016 is "premature, but I am curious," and told the Boston Globe he'll be doing more out-of-state engagements. "Over the next year or so, I'll be coming out to speak to groups that want me to speak," Brown said. Even if people aren't interested in nominating another Republican from Massachusetts (who's less experienced than Mitt Romney), being talked about as a potential candidate won't hurt his chances if he decides he wants to be the governor in his home state, a senator from Massachusetts or New Hampshire, or bqwhatever.