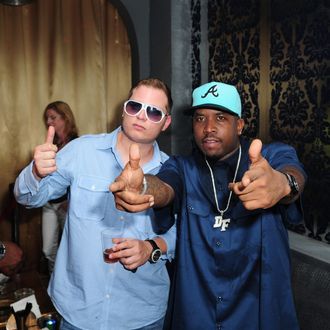 Storch with Big Boi.
Photo: Vallery Jean/Getty Images
Fallen hip-hop producer and poster boy for late capitalism Scott Storch — best known for writing the piano riff on "Still D.R.E."; dating Lindsay Lohan, Paris Hilton, and Kim Kardashian; and then losing all of his money — was held up this morning in midtown. The Wall Street Journal reports that Storch and his entourage, in town from Florida, were leaving Platinum Studios near Times Square after a night of recording when two men approached their vehicles with guns. Storch allegedly lost "a $50,000 diamond necklace and a Rolex watch also valued at $50,000," while his associate had "a briefcase containing more than $4,000 in cash" taken. The briefcase full of money is always a risk.
TMZ adds that the alleged thieves demanded Storch's driver to "hand over the keys to the ride so they couldn't drive away … and the driver complied." But our hero did not just sit back and have his cred snatched: "Storch says he tried to chase after the guys to see where they were headed, but they got away." He seems to be doing okay: