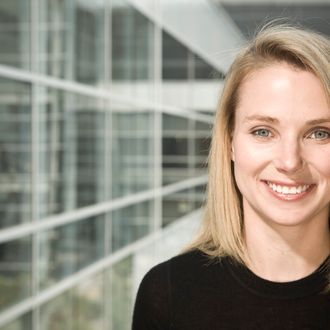 Photo: Martin Klimek/Corbis
Just in case you didn't get enough Marissa Mayer in last week's Vogue: Business Insider's Nicholas Carlson has written an "unauthorized biography" of the 38-year-old Yahoo CEO. Unlike a lot of Mayer coverage, the piece hardly mentions her clothing or baby, but there's plenty on what she was like as a teen, her rise and slight stumble at Google, Yahoo's decision to hire her, and how she's settled into her newish job. At over 21,000 words, it is very much a long read (apparently, it was originally supposed to be an e-book), so here are some highlights for people who prefer their Mayer information in more moderate doses:
1. She was a teacher's pet. As a child and teenager, Mayer was always drawn to "a particular kind of nurturing, mentoring adult: coaches, teachers, counselors, and instructors." Her fifth-grade teacher recalls that she refused to leave his classroom on the last day of school because "She did not want to go to middle school." As a student at Wausau, Wisconsin's West High School, she "once snuck into her AP Lit teacher's classroom to decorate it like a jungle because she was so inspired by the teacher's lesson on Heart of Darkness." Carlson writes that when Mayer was inducted in Wausau School District's "Alumni Hall of Fame" in 2010, Mayer gave a speech during which she thanked her favorite teachers, listing them by name: "About six names in, the timbre of Mayer's voice actually breaks toward a sob, and she has to catch herself with a breath and a small gulp. She can't stop her eyes from swelling with held-back tears, though." At Stanford, a professor was so impressed with her work that he had her teach a class while she was still an undergraduate.
2. She was never very interested in hanging out. Despite her very public persona, Mayer and others often describe her as naturally shy. (Carlson writes repeatedly that many people interpret that quality as being "stuck up.") A high school classmate remembers Mayer as being "kind to everyone," but she preferred to spend free periods on her own: "She would be the person to come down, get something to eat from the kitchen or the vending machines, and then she would go to the library or the science lab to study. She wouldn't be the one to stay and sit there and converse for 20 minutes." Similarly, a Stanford classmate who was assigned to a study section with her recalls that she didn't stick around after the group's typical all-nighters: "She would do her work and then leave. When other people would stay and hang out and have pizza, she'd just be out of there because the work is done." Another classmate said, "She wasn't one of those people into making new friends around the dorm. She was always doing something more important than just chilling."

3. She almost deleted her chance to work at Google. By the end of her senior year at Stanford, Mayer already had twelve job offers and wasn't looking for more. Carlson writes,"So when yet another pitch from a recruiter popped up in her inbox, she tapped on her keyboard's delete key to get rid of it. Only, she missed. Instead of hitting delete, Mayer hit the space bar and opened the email. That email's subject line: 'Work at Google?'" Though the company wasn't very well known at the time, she remembered that a trusted professor had once encouraged her to meet then PhD students Sergey Brin and Larry Page, so she responded to the e-mail by saying she'd like an interview. After she was offered a job, she "crunched the data and had decided that the company only had a 2 percent chance of succeeding." (She also "was worried about Google's weird name.") Still, she decided to become a programmer for the company, where she stayed for thirteen years — eventually becoming a top executive — before going on to head Yahoo.
4. Yahoo hired her after a super secret interview. The final stage of Yahoo's 2012 search for a permanent CEO to replace Scott Thompson (who resigned after a board member learned he'd lied on his résumé) was fairly dramatic. Some on Yahoo's board of directors wanted to just give interim CEO Ross Levinsohn the job, but others wanted to speak to more candidates, including Apple's senior vice president of Internet Software and Services Eddy Cue, then Hulu CEO Jason Kilar, and Mayer. On the day of the board's last interviews with the finalists, the executives were loaded onto a bus outside the Four Seasons Hotel in East Palo Alto "with no idea where they were going." The interview location — it turned out to be the offices of Yahoo shareholder Third Point's law firm, Gibson Dunn — was kept secret because the search committee was sure that one of the board members, who Carlson writes "did not trust each other," would leak the information to a reporter.
5. The new version of Yahoo Mail was supposed to be blue and gray. Jokes about old people aside, Yahoo Mail is "the biggest reason any of Yahoo's 700 million users ever bother to go to Yahoo.com in the first place." The version of Yahoo Mail that launched in December 2012 was built more quickly than any previous incarnation of the product, but the process involved some drama. Carlson writes that "For months, it had been decided that the new Yahoo Mail's colors would be blue and gray," because the "most subtly contrasting colors possible" were thought to be best for users "looking at Yahoo Mail on their phones all day long." But on the day before the scheduled launch date, Mayer decided to switch to the company's signature purple and yellow, which "meant that some unlucky group of people were going to have to manually go and change the color in literally thousands of places" while under deadline. Carlson writes that four people eventually quit over "the fallout from Mayer's decision," but others appreciated the reasoning behind her choice: "Their view is that Mayer refused to launch a product that she didn't think was finished. A product's color may seem superficial, but Mayer is obsessed with data that shows it is not. At Yahoo's scale, if you can change a color a little bit and effect the performance by some factor of .01 percent, that translates into millions of dollars."
6. Sheryl Sandberg played a minor role in Mayer's Tumblr acquisition. Besides instituting a ban on working from home, Mayer's most well-known act as Yahoo CEO so far is buying Tumblr for $1.1 billion in May. Carlson writes that, as the deal was about to go through, Sandberg left Tumblr founder David Karp a voicemail asking her to call him, raising the prospect of a bidding war between Yahoo and Facebook. While the Tumblr people were worried that Mayer would cancel the arrangement when she learned about the call, Carlson writes, "She only became more eager to get the deal done."