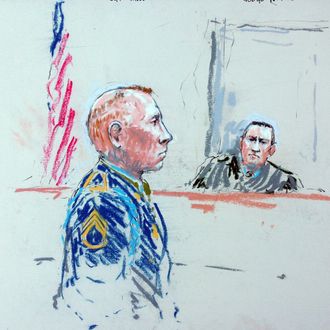 A sketch of Bales in court earlier this week.
When Staff Sgt. Robert Bales pleaded guilty two months ago to the March 2012 massacre of sixteen Afghans as part of a deal to avoid the death penalty, he said, "There's not a good reason in this world for why I did the horrible things I did." In a Washington state military courtroom on Thursday, he apologized but still offered no explanation for his actions. "I am truly, truly sorry to all the people whose family members I have taken away. I have murdered their families," Bales said. "What I did is an act of cowardice behind a mask of fear, bullshit and bravado."
In the coming days, a jury of six military personnel will decide if Bales should be eligible for parole in twenty years, or spend the rest of his life behind bars. Defense lawyers have attempted to paint Bales as a soldier suffering from a traumatic brain injury and PTSD, who snapped after his fourth deployment. Prosecutors point to his drunk-driving arrests and his involvement in a fraudulent investment scheme as evidence that he had a pattern of bad behavior before enlisting.

Bales's tearful statement from the witness stand came after two days of horrific testimony from Afghan men and boys, who traveled 7,000 miles to describe the day the soldier slaughtered their family members and left many of them injured. "That bastard stood right in front of me," said Haji Mohammed Naim, 60. "I wanted to ask him: 'What did I do? What have I done to you?' "
The witnesses chose not to be in the courtroom for Bales's statement on Thursday. "I hope that the people that traveled so far to come here, I hope they translate this so I can tell them I'm sorry," he said. "If I could bring their family members back, I would in a heartbeat. I can't comprehend their loss. I think about it every time I look at my kids."