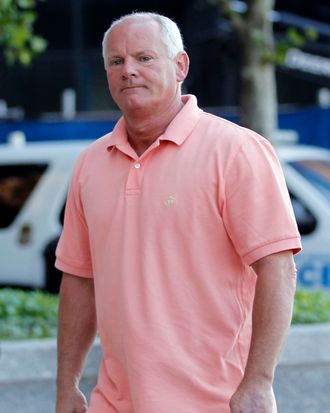 Stephen Rakes arrives at the courthouse. The trial of James "Whitey" Bulger continues at the John Joseph Moakley United States Courthouse in Boston, June 17, 2013.
Photo: Jessica Rinaldi /The Boston Globe/Getty
There were a lot of theories about what happened to Stephen Rakes, the potential Whitey Bulger witness who was found dead a couple of weeks ago. Murdered by Bulger associates? Suicide? All the theories were wrong: This afternoon, Middlesex County district attorney Marian Ryan announced that Rakes was killed by cyanide poisoning in a murder that appears completely unconnected to the Bulger case.