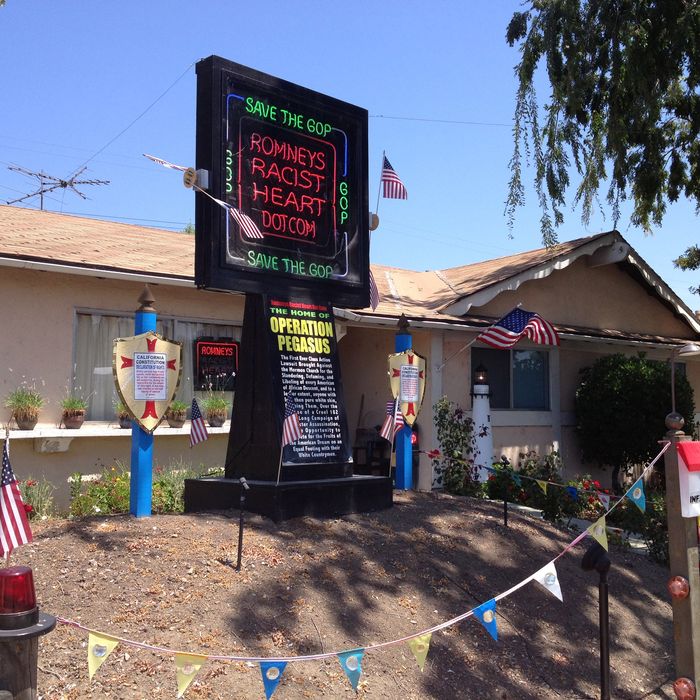 The scene in Showers's front yard at noon today.
When we last spoke to Steven Showers — the 60-year-old white Republican who erected a large neon sign in his front yard last summer to communicate his belief that Mitt Romney (and all Mormons) are racist — he had just been released from county jail after three weeks for refusing to turn off the sign, which violated various local ordinances, according to a jury. While Showers was incarcerated, the sign had been unplugged, and Showers was back at home, wrestling with whether to turn it back on even though doing so would violate his parole and could land him another eighteen months in jail. Such is his conviction that Romney's nomination remains a blight on the Republican Party and that his sign is protected by the Constitution's guarantee of freedom of speech. 
Today, Showers turned the sign back on. 
"I have made my decision to electrify my neon sign installation again," Showers e-mailed Daily Intelligencer this afternoon. "I turned it on this morning at 8:00am.  That means I will be going back to jail."
Showers sees the re-illumination of the sign as an act of "civil disobedience" for which he's willing to pay the price. 
"This decision to turn the neon sign installation back on, and to face the consequences of the much longer jail sentence, will carry this message loud and clear," Showers says in the e-mail, "that my belief in this project is so profound, so sincere, my conviction is so solid and immutable, that I will give the most valuable thing to it that I have, which is my life."
Ultimately, leaving the sign unplugged was just not something Showers could live with. 
"I have been home (from jail) for about six days now, and the darkness of the sign is eating away at my soul," he writes. "I say, let there be light."