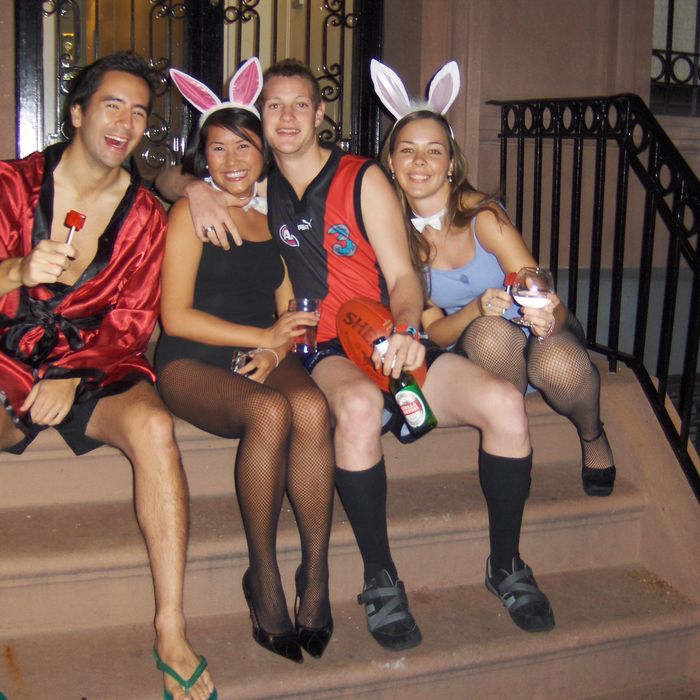 Hooray! (No idea what's going on here.)
Photo: Courtesy of Flickr
Proponents of semi-public alcohol consumption were heartened last night when New York City's time-honored yet technically illegal practice of stoop drinking received support from all of the Democrats running for mayor (except for Erick Salgado). But what about the Republican mayoral hopefuls? Do they support the right to imbibe alcohol while sitting on one or more outdoor steps — a right some claim our founders prized above all others?
Daily Intelligencer reached out to all three candidates for the GOP nomination and found that the top two contenders were firmly in the pro-stoop-drinking camp. 
Joe Lhota, the current leader in the race for the Republican nomination, supports stoop drinking, according to his spokesperson, and also "said we should also bring back stoop ball." (Please refer to this clip about stoop ball if you are under 50 years old.)
John Catsimatidis, the supermarket magnate who trails Lhota, agreed that laws against stoop drinking were unwarranted. "New Yorkers already suffer under enough rules and regulations," he told us. "Of course they should be able to enjoy a beer on the stoop of their home."
But Doe Fund founder and Weiner archenemy George McDonald is wary of giving New Yorkers too much stoop freedom. "It's a slippery stoop — oppose," he says. 
Barring some kind of freak political upset, however, neither McDonald nor Salgado is likely to become the next mayor of New York. Which means that the stoop drinkers of New York can finally look forward to having an ally in Grace Mansion come next year.