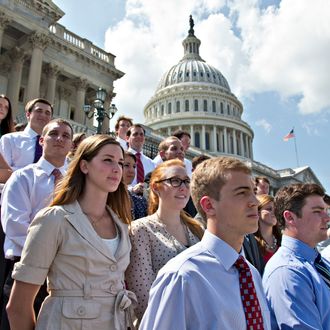 College students attend a July 31 news conference on the new rates.
Photo: J. Scott Applewhite
Congress has been bickering about student loan interest rates for months, but the bill is finally on its way to President Obama, who has said he will sign it. The measure, which links interest rates on federal student loans to the financial markets, passed the Senate 81-18 last week, and was approved by the House on Thursday 392-31, prompting lawmakers to pat themselves on the back for managing to agree on something. Republican Rep. Luke Messer called the deal "a great victory for taxpayers," adding, "This, I hope, opens the door to potential compromises on some of the other big issues that we have before us that we have to deal with in the next several months. This proves Washington can work."
The legislation will lower rates for most students now, but rates will increase if the economy improves as expected. Rates will be tied to the the yield on the ten-year Treasury note and for the coming school year the interest rate will be 3.9 percent for undergraduates, 5.4 percent for graduate students, and 6.4 percent for PLUS loans to graduate students and parents of undergraduates. The House passed similar legislation earlier this year, but Democrats were hesitant to support it, fearing that rates could get too high. The bill passed the Senate after a deal was reached to cap rates at 8.25 percent for undergraduates, 9.5 for graduate students and 10.5 for PLUS loans.
Despite lawmakers' enthusiasm about the legislation's passage, it isn't the result of a newfound commitment to efficiency and bipartisanship. Since Congress couldn't reach a deal by its July 1 deadline, the rates on some new student loans doubled to 6.8 percent. The New York Times notes, "Failing to act on a compromise before the end of this week would have left legislators heading home for a month-long recess to face constituents already disillusioned over dysfunction and inaction in the Capitol."
And in another sign that there hasn't been some drastic shift in Washington, members of Congress still managed to get in a few jabs at the opposing party. While the House Republicans' plan was similar to a proposal from President Obama, John Boehner said on Wednesday, "Democrats who run Washington did the right thing by finally agreeing to these long-term reforms, which first passed the House in May as part of the Republicans' jobs plan."