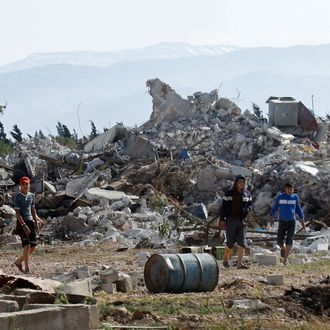 Syrian youths walk amongst the rubble in the village of al-Hamidiyeh, north of Qusayr, in Syria's central Homs province on June 7, 2013 as regime forces sought to mop up the final pockets of rebel resistance north of Qusayr, after retaking the key town that was an insurgent bastion for a year, a watchdog said. Qusayr's capture gives President Bashar al-Assad the upper hand if a US-Russian plan for the first direct peace talks with his opponents materialises, analysts say.
Photo: AFP/Getty Images
With the United States military preparing for the possibility of a missile strike on Syria, the government there has agreed to let UN inspectors examine the site of last week's chemical weapons attack, which left hundreds of people dead. While President Bashar al-Assad's people claim that the weapons were used by rebel forces against their soldiers, the Obama administration now says there is "very little doubt" that the regime was responsible for the attack. A senior U.S. official told the Washington Post, "At this juncture, the belated decision by the regime to grant access to the U.N. team is too late to be credible, including because the evidence available has been significantly corrupted." It seems that Obama may be getting ready to admit that the "red line" has been crossed.