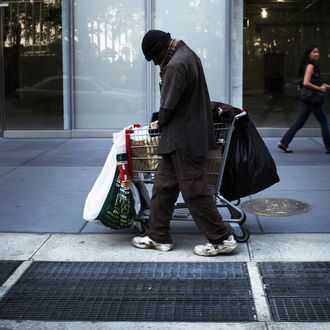 Brother, can you spare a debug?
Photo: Spencer Platt/Getty Images
Patrick McConlogue, a New York–based tech entrepreneur who is affiliated with an outfit called "Kickass Capital," passes a homeless man every day on his way to work. The other day, McConlogue had an idea: Why not release this man from his plight by showing him the wonderful world of computer programming?
Thus was born a truly ill-conceived social experiment.
McConlogue's Medium post outlines his plan to restore this homeless man ("The Journeyman Hacker," he calls him) to his rightful place in society:
Without disrespecting him, I will offer two options:

1. I will come back tomorrow and give you $100 in cash.

2. I will come back tomorrow and give you three JavaScript books, (beginner-advanced-expert) and a super cheap basic laptop. I will then come an hour early from work each day—when he feels prepared—and teach him to code.
How will the saga end? Will Journeyman Hacker get a job at Google? (No.) Will there be a laptop and three JavaScript books for sale on 58th Street tomorrow? (Probably.) Does McConlogue have a shred of self-awareness? (Surprisingly, sort of — earlier in the post he says, "I suck at empathy.")
Check back soon for McConlogue's next post: "How Ruby on Rails Fixes Racism."
Update: McConlogue has posted a follow-up, in which he finds out the Journeyman Hacker's real name (Leo), and says that Leo has, in fact, chosen the laptop and coding lessons over the $100 in cash.