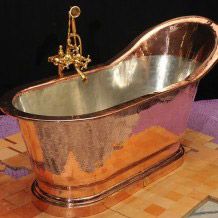 Something like this, but with more Bloomberg.
Photo: Atelier du Cuivre
Grumpy, frisk-happy billionaire Michael Bloomberg needs to relax: What better way than in a one-of-a-kind copper tub built by hand over the course of 250 hours — more than ten complete days — in Normandy, France? "The advantage of copper is that it takes the temperature of the water almost immediately, which means the heat of the bath is lost less quickly," explained the owner of Atelier du Cuivre, which crafted the mayor's new old-man toy for somewhere around $13,000, according to AFP. "Apart from that, it is very good for the skin and it kills bacteria."
The tub looks something like this. (Like a bathtub.) And, of course, it denotes status: "These days, those who have money are looking for ways to distinguish themselves from the crowd and we are virtually alone in the world in being able to deliver this kind of quality," said the seller. Consider Mayor Bloomberg's naked body officially distinguished.