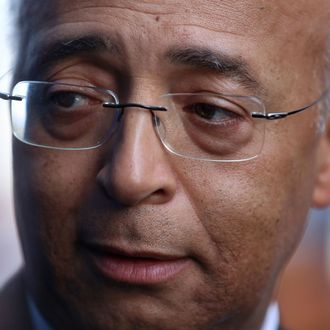 Photo: Mario Tama/Getty Images
Two recent polls show Bill Thompson beating Christine Quinn for second place in the Democratic primary race for mayor, meaning that the former comptroller could end up facing current frontrunner Bill de Blasio in a run-off (assuming de Blasio doesn't win 40 percent of the vote, which he could.) But a New York Times report contains information about Thompson's time as comptroller that Quinn could use to sway some voters back into her camp. According to the Times, Thompson repeatedly rewarded political donors by investing portions of New York's $85 billion in pension funds in their firms.
The Times' most prominent example of possible impropriety is Thompson's relationship with financier Tracy V. Maitland, whose support of Thompson began when he hosted a fund-raiser for his successful 2001 comptroller campaign. After that, Maitland became "a regular contributor" to Thompson's campaigns, and used his position as an ASPCA trustee to unsuccessfully lobby to have Thompson's wife, Elsie, hired as president of the organization. Later, in 2008, Thompson's office "for the first time began investing city pension assets in convertible bonds, pouring $324 million into Advent Capital Management, the firm Mr. Maitland founded. By the time Mr. Thompson left office, in 2009, Advent was earning $2 million a year in fees on those investments." Thompson's successor, John Liu, gave Advent another $292 million. The Times reports, "Today, the funds' $855 million — the investments have done well, growing on average by just over 8 percent — represents more than 10 percent of Advent's assets under management." When asked about the investment, Thompson told the Times that Maitland is "an acquaintance" and said he has not donated to his mayoral bid this year.
The Times has previously noted that "the city's roster of fund managers, and their fees, tripled" during Thompson's 2002-2009 tenure, and that Thompson "collected more than $500,000 in campaign donations from them." In addition to Maitland, Times lists four more examples of Thompson donors whose firms received pension fund investments. The new report also reveals that, after a 2005 audit of Thompson's handling of New York's pension funds, "state regulators suggested his office be stripped of responsibility for investing them" because investing investing policies "might have been adjusted to justify the choice of a particular provider," among other criticisms. Thompson insisted, "No one received any favor based on a contribution" and emphasized that consultants and a board of trustees must sign off on the comptroller's choice of investment choices. Even so, the report does add a scuff or two to Thompson's image as a completely responsible money manager.