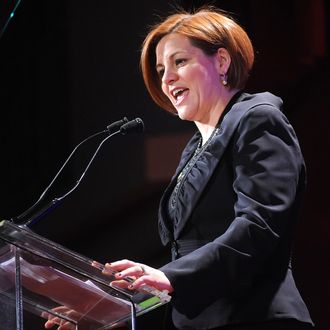 Photo: Brad Barket/2013 Getty Images
With just a little more than two weeks left before primary day, the New York Times editorial board has announced its preferred Democratic mayoral candidate: Christine Quinn. (The paper also endorsed Joe Lhota, for anyone watching or voting in the Republican race.) The authors write that Mayor Bloomberg's reign has been defined by "often inspiring, sometimes maddening priorities" and "a vision that succeeded brilliantly, but incompletely." Quinn, a longtime Bloomberg ally who only began to publicly differ with him when she hit the campaign trail, "is a candidate who is ready to carry on at least as well as he did."
Bill de Blasio's campaign manager, Bill Hyers, responded to the Times' assessment in a Sunday statement: "I won't argue with that. If you want a fourth Bloomberg term, then Speaker Quinn is your candidate." But a Friday Politico report on the then ongoing decision-making process behind the endorsement shows that not everyone on the paper's editorial board was enthusiastic about signing off on Bloomberg Lite. Dylan Byers wrote that the group was "split" between de Blasio, "who is more ideologically aligned with the Times," and Quinn. (Bill Thompson, who also gets a nod in the endorsement, was reportedly not "in serious contention" for the Times' official affections.) Indeed, the piece praises de Blasio's liberal bona fides, though its authors worry that he just might be too tall for New York:
[De Blasio] has ennobled the campaign conversation by insisting, correctly, that expanding early education is vital to securing the city's future. And yet, Mr. de Blasio's most ambitious plans — like a powerful new state-city partnership to make forever-failing city hospitals financially viable, or to pay for universal prekindergarten and after-school programs through a new tax on the richest New Yorkers — need support in the State Capitol, and look like legislative long shots. Once a Mayor de Blasio saw his boldest ideas smashed on the rocks of Albany, then what?
Quinn, meanwhile, "inspires the most confidence that she would be the right mayor for the inevitable times when hope and idealism collide with the challenge of getting something done." Later, citing the city's impending budget crisis, the Times warns that the leader New York will soon need "will not be the police reformer or education visionary, but a skilled and realistic negotiator." The endorsement points to Quinn's transformation of the City Council "from a collection of rambunctious, ill-directed egos into a forceful and effective legislative body" as proof that she's up to the unromantic issues the next mayor will face. In a way, the endorsement reads like something from the earliest days of the mayoral race — before Anthony Weiner's rise and Carlos Danger's fall, and way before de Blasio's unexpected surge — when Quinn's victory was seen as inevitable.