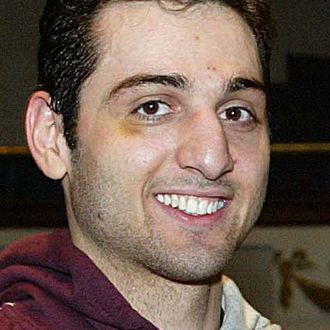 Tamerlan Tsarnaev, 26.
Photo: AP/Corbis
A young man agrees to help out an older disabled man, and the two wind up forming a friendship that involves long political discussions and chats about their cultural backgrounds. It sounds like a sweet story, but obviously there's a disturbing twist to Tamerlan Tsarnaev's friendship with 67-year-old Donald Larking. While it's believed that the Boston bomber was mainly motivated by Islamist radicalism, he's also known to be a fan of the crazy conspiracy theory website Infowars and its ilk. Now The Wall Street Journal reports that Tsarnaev was guided through a world in which the Holocaust didn't happen and the Newtown shooting is a government plot by Larking, who suffered brain damage after he was shot in the face during a convenience store robbery 40 years ago.
Over the weekend, the BBC offered a more in-depth look at the right-wing American literature in Tsarnaev's possession. The 26-year-old had writings that described "the rape of our gun rights," articles that argued 9/11 and the 1995 Oklahoma City bombing were government conspiracies, and white supremacist materials that claim "Hitler had a point."
The Journal revealed on Monday that many of these publications came from Larking, who Tsarnaev's mother, Zubeidat Tsarnaev, worked for as a home health aide starting in 2010. She began asking her sons to care for Larking, who lives in the Boston suburb of Newton with his quadriplegic wife, when she was unavailable. Soon Larking was having animated political discussions with the elder Tsarnaev brother, and passing on his copies of conspiracy-promoting newspapers. Tamerlan would take the older man to his mosque in Cambridge, and Larking identified himself to worshipers as his "close friend."
Larking's lawyer said his injury impaired "his awareness of the realities of the world," and a spokeswoman for the mosque, which he still attends, said he's a "sweet and innocent man" who never thought "his views would ever cause anyone harm." Whatever the source, Tamerlan's eclectic interests (he also had articles on hypnosis and "How To Create an Instantaneous Sexual Attraction in Any Woman You Meet") add another layer of complexity to the story of two brothers leading seemingly normal lives in America, before something went horribly wrong.