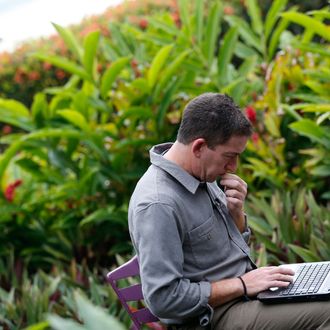 Greenwald at home in Rio de Janeiro.
Photo: Sergio Moraes/Reuters/Corbis
After British officers detained his partner David Miranda for nine hours on Sunday, Guardian journalist Glenn Greenwald said, "I think they will be sorry for what they did," explaining that he plans to publish more stories on England and will be "far more aggressive in my reporting." The Guardian's editor, Alan Rusbridger, beat him to it on Monday evening, revealing that that the British government has been harassing the paper for weeks over its reporting on Edward Snowden's leaks – though they aren't very good at it. Recently, two agents from Britain's NSA equivalent smashed several hard drives in The Guardian's London basement, as Rusbridger tried in vain to explain that journalists aren't dumb enough to keep all of their reporting on Snowden stored on a few computers.

Rusbridger reveals that he was first contacted by senior government officials a little over two months ago, shortly after The Guardian published several reports based on Snowden's leaks. In multiple meetings and phone calls, officials demanded that the paper destroy or return all of the material it was working on. "You've had your fun. Now we want the stuff back," said one agent. Officials confirmed that if The Guardian wouldn't willingly surrender the materials, the government would take the paper to court.
Based on his experience with WikiLeaks in 2010, Rusbridger already suspected that the British government might try to restrain the press. "America, for all its own problems with media laws and whistleblowers, at least has press freedom enshrined in a written constitution," he notes. Rusbridger explained to one government official that media organizations have learned to take advantage of more "permissive legal environments," and most of The Guardian's Snowden reporting takes place in New York or Brazil, where Greenwald lives. He writes:
The man was unmoved. And so one of the more bizarre moments in the Guardian's long history occurred – with two GCHQ security experts overseeing the destruction of hard drives in the Guardian's basement just to make sure there was nothing in the mangled bits of metal which could possibly be of any interest to passing Chinese agents. "We can call off the black helicopters," joked one as we swept up the remains of a MacBook Pro.

Whitehall was satisfied, but it felt like a peculiarly pointless piece of symbolism that understood nothing about the digital age.
On the other hand, it's possible getting a visit from government agents joking about "black helicopters" was just meant to scare reporters. In his first interview following the incident, David Miranda said interrogators "were threatening me all the time and saying I would be put in jail if I didn't co-operate." And while the White House insists it only got a "heads up" about Miranda being detained, one U.S. security official was familiar enough with the operation to confirm to Reuters that the point was to send a message to those working with Snowden's materials that the British government is serious about stopping the leaks.
Whether U.K. officials were trying to intimidate reporters or thought they could physically destroy the materials, the strategy is backfiring. "We will continue to do patient, painstaking reporting on the Snowden documents," writes Rusbridger. "We just won't do it in London."