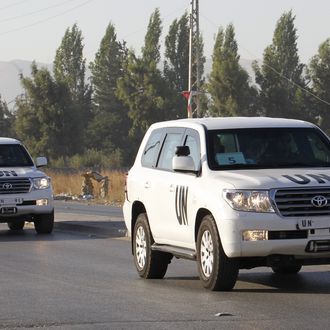 U.N. weapons inspectors have left Syria, and disarmament chief Angela Kane is expected to brief U.N. Secretary General Ban Ki-moon on their findings later today. The U.N. will take two weeks to release their assessment. Meanwhile, in a Saturday afternoon Rose Garden address, President Obama announced that he will seek congressional approval for a strike on Syria. He and his national security team are reportedly working hard to drum up more support for intervention. Secretary of State John Kerry made the case in a strongly worded Friday statement, and National Security Adviser Susan Rice backed him up on Twitter this morning. Over the weekend, Democratic and Republican members of Senate and the House will receive briefings on a classified version of the White House's report on the chemical weapons attack that they say killed 1,429 people, and they will surely have the opportunity to hear more before and after Congress reconvenes on September 9. 
The rest of the world is preparing to deal with whatever the Obama administration decides to do. The Wall Street Journal reports that officials from South Korea, Turkey, Israel, and Saudi Arabia have encouraged their American counterparts to press for an attack on Syrian President Bashar al-Assad, as they believe such action will discourage North Korea and Iran from using their own nuclear and chemical weapons. The U.S.'s usual war buddies in the United Kingdom will be sitting this one out, though France has vowed to participate in an American strike on Syria.
Syria's main ally, Russian President Vladimir Putin, called on the U.S. to look for more definitive proof that Assad was responsible for the gassing of civilians earlier this month. Calling the idea of the Syrian government using chemical weapons "utter nonsense," he dismissed the attack as "nothing more than a provocation by those who want to drag other countries into the Syrian conflict, and who want to win the support of powerful members of the international arena, especially the United States." He added that the U.S. should present its classified evidence to the U.N. Security Council, though Russia has of course promised to veto any action against Syria.
This post has been updated throughout.