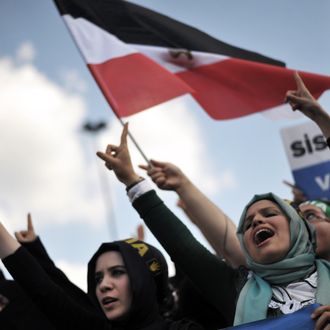 Multiple news outlets report that the United States Navy is positioning warships for a possible cruise missile attack on Syrian government forces. The move is a response to the Wednesday chemical weapons attack that the Syrian opposition said left as many as 1,000 people dead. Last year, President Obama warned Syrian president Bashar Al-Assad that using chemical weapons in the country's ongoing civil war would cross a "red line" that might prompt intervention, though so far the U.S. has not acted on subsequent evidence that Syrian citizens have been gassed. Secretary of Defense Chuck Hagel told reporters that Obama had asked the Pentagon to prepare military "options" for Syria, though he stressed that a decision on whether or not to launch an attack has not yet been made. The White House said Obama planned to meet with his national security team on Saturday to "make an informed decision" on the situation "once we ascertain the facts."
An anonymous senior military official told NBC News that any U.S. action in Syria would be limited:
"If the president wants to send a message" — most likely with limited airstrikes against a few targets — "we're good at sending messages," one official said. But if the White House wants to topple Syrian President Bashar Assad, "We're not able to do that" without a long-term military commitment, the official said.
On Saturday, Syrian state television claimed that opposition fighters were responsible for the attack. A broadcast showed "images of plastic jugs, gas masks, vials of an unspecified medication, explosives and other items that it said were seized from rebel hideouts. It did not, however, show any video of soldiers reportedly affected by toxic gas in the fighting in the Jobar neighborhood of Damascus." Meanwhile, UN disarmament chief Angela Kane has arrived in Damascus to urge the Syrian government to allow the UN to investigate the attack.