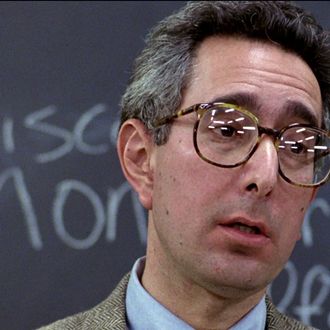 Leading candidate for next Goldman Sachs CEO.
Photo: Paramount Pictures
Once upon a time, you could walk into any C-suite office at a Wall Street bank and expect to find some kind of character. A cigar-chomping backslapper, a designer-drug addict, or maybe just a guy who took a few too many board-checks on Harvard's hockey team.
Now, thanks to the financial crisis and the prevailing view that maybe crazy people shouldn't run global financial institutions, the upper echelons of finance are populated with losers, bores, and dullards. The Journal has the scoop on the trend, citing several banks – Barclays, RBS, Lloyds – where once-interesting CEOs have been replaced by their counterparts from Snoozeville.
Large banks, burned by years of scandal, often with swashbuckling CEOs at the helm, are turning to new bosses who sport well-polished veneers of boringness. The goal is to avoid further controversy … "Humility and high levels of self-awareness are now desirable," says Jamie Maxwell-Grant, a consultant at recruiter Korn/Ferry International who oversees a battery of psychometric tests that the headhunter administers to would-be chiefs of top banks. "Five years ago they were not necessarily sought-after attributes."

Gone are the hard-driving former investment bankers such as Mr. Hester, Barclays's Bob Diamond and Citigroup's Vikram Pandit. In their place are retail bankers whose top goals now include casting their banks in a gentler light and forging conciliatory relationships with regulators.
This is probably a positive trend for bank shareholders, employees, and, you know, humanity. But it's a disaster for people who like their Wall Street tycoons crazy and interesting. How are we supposed to revile and/or admire people like this?
[Barclays CEO Antony] Jenkins, a soft-spoken Briton, has faced a different criticism: He is too dry. At a recent parliamentary hearing, a British lawmaker scolded him for using too much management-consultant jargon. Mr. Jenkins has caused some employees to roll their eyes by installing large glass panels in the lobby of Barclays's headquarters inscribed with buzzwords such as "integrity," "stewardship" and "respect."
Integrity! Stewardship! Respect! My gosh. At least we still have Lloyd.