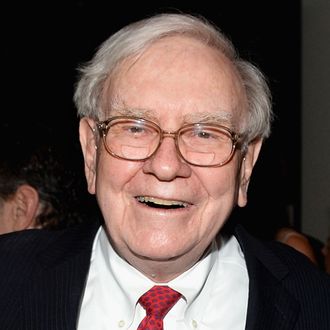 He's having the veal.
Photo: Andrew H. Walker/Getty Images
Having lunch with fabled billionaire Warren Buffett is usually a pretty expensive proposition, on the order of a million dollars or so. But Bank of America CEO Brian Moynihan was recently able to convince Buffett to open his wallet and buy him dinner. All he had to do was make the Berkshire Hathaway baron $5 billion richer in two years.
CNBC's Kayla Tausche reports on the Buffett-Moynihan feast:
On Aug. 6, the two met at Omaha's Happy Hollow Club, where Buffett is a member, according to people briefed on the dinner. On the menu: The economy, the banking sector, and—"very likely"—the state of his $5 billion investment in the bank, these people said  … Shares of Bank of America have risen more than 100 percent since Buffett took a similar stake in Bank of America in August 2011—leading Buffett to thank Moynihan for what is now a $5.27 billion paper profit for Berkshire Hathaway in just two years, these people said.
Such is the power of Buffett — make him $5 billion, and you still have to fly to Omaha.