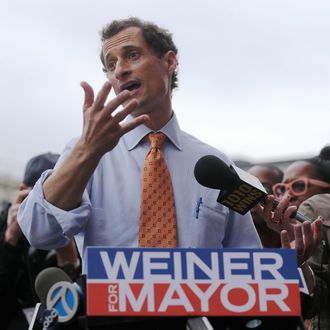 Photo: Mario Tama/Getty Images
Unsurprisingly, the Democratic mayoral candidates aren't thrilled with Mayor Bloomberg's handling of Occupy Wall Street, which involved allowing protesters to erect a tent city in Zuccotti Park for two months, then clearing the park in a predawn raid. When asked to reflect on one of the major challenges faced by the Bloomberg administration, Christine Quinn told The Wall Street Journal that city officials' talks with protesters were too "adversarial," adding, "we failed." Bill Thompson would have "let the conflict come to a natural conclusion rather than a direct confrontation." (He wouldn't explain what that means.) And as mayor Bill de Blasio would "work to build spaces where OWS and government officials could communicate and discuss ways to address their demands." (In response to mockery from Bloomberg's camp, his campaign clarified that wouldn't literally construct buildings for Occupiers.) The only dissenter among the Democrats was Anthony Weiner, who joined with Republicans John Catsimatidis and Joe Lhota in praising Bloomberg's approach. 
Weiner said Bloomberg gave protesters time to "blow off some steam," but "ultimately the police and the mayor were right to move the encampment." Apparently the city's current policy is to allow protests to continue without a permit, then start making arrests if things turn violent (as seen last month when a rally for Trayvon Martin morphed into march and a Times Square sit-in, followed by a handful of arrests). "I think the ideal is to allow people to blow off steam in a way that doesn't endanger their neighbors," said Weiner.
Most Occupy Wall Street protesters who spoke to the Journal said they wouldn't endorse a mayoral candidate, and clearly Weiner isn't worried about winning over the demonstrators, or those sympathetic to their cause – but he may get it anyway. Occupy co-founder Kalle Lasn tells the paper that Weiner is his preferred candidate. "Of all the candidates, Weiner is the most interesting dude in the race, even if it's for negative reasons," he said. "He tells me something about the zeitgeist and the consciousness of the public." Being the guy whose tawdry escapades expose society's shortcomings isn't something you can put on a campaign poster, but at this point Weiner is probably happy to take whatever votes he can get.