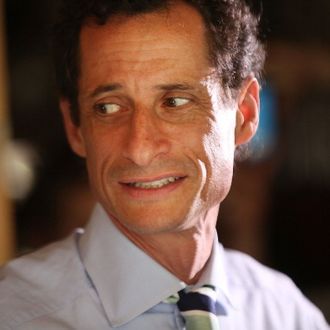 Photo: Spencer Platt/Getty Images
Anthony Weiner's former sexting and dirty talk partner Sydney Leathers is very much still out there, making the most of her time in this particularly dingy spotlight with New York Post photo shoots and interviews with Inside Edition, Howard Stern, and now the New York Daily News. Leathers's latest chat does not provide much new information — gross or otherwise — on Weinergate: Part II, but it does include a snapshot of Weiner's pre-mayoral campaign reasoning. 
"He acted like he was the only choice. He made fun of [Mayor] Bloomberg, how he had to buy his last term and what a loser he was," said Leathers. "He never said anything bad about Christine Quinn, but he said there's no other competition. He said, 'The people of New York love me.' He said it like 100 times." Weiner has since jabbed at Quinn, but otherwise it doesn't seem that his thinking has changed much. Meanwhile, the people of New York currently do not seem to love him enough to vote for him despite his revived scandal, but maybe he knows something we don't.