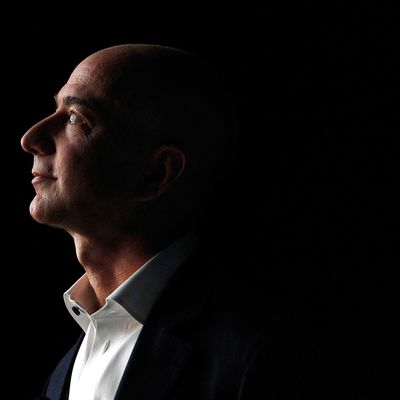 Photo: Patrick Fallon/Bloomberg via Getty Images
There is, just a few hours after Jeff Bezos' shock purchase of the Washington Post for $250 million was announced, no real way to know how he will run the paper. But although he's never owned a newspaper before, it is possible to draw a few inferences from his track record as an entrepreneur and a boss. In a note to Post staff, Bezos assured that he is "happily living in 'the other Washington'" and won't take on any day-to-day duties at the paper, but that change is coming "with or without new ownership." In his vision, "We will need to invent, which means we will need to experiment." Bezos's history of experimentation tells us a few things about him.
He's patient
"I don't want to imply that I have a worked-out plan," Bezos said bluntly today. But the massive success of Amazon was a slow burn: As the Post noted in its story on the purchase, "Bezos frustrated investors and analysts who wanted Amazon to turn profits more quickly, or more regularly. Because of heavy investments in warehouses and new businesses, Amazon didn't deliver a profit until the company's ninth year of operation, and seven years after selling shares to the public."
In the words of Slate's Matthew Yglesias, Bezos has "famously run Amazon as a deliberately low-margin, growth oriented firm. If he runs the newspaper in anything like that same spirit, it'll be an excellent thing for the world whether or not it works out as a business." Amazon has famously prized the consumer experience above all, and if Bezos takes the same attitude towards readers, he'll likely invest in the long term. (From today's memo: "Our touchstone will be readers, understanding what they care about – government, local leaders, restaurant openings, scout troops, businesses, charities, governors, sports – and working backwards from there.") As the 11th richest man in America, he has that luxury, and a similar approach at the Post would mark a big change from the last decade of relentless cuts. When Bezos invested in Business Insider, the result was "more journalism."
He's an experimenter
While Amazon was originally founded, on a $300,000 loan, as an online bookstore, it eventually grew into a buy-everything-in-one-click retailer and much more. Beyond shopping, Bezos has pushed for growth in disparate businesses that have little to do with retailing: cloud storage, movie streaming, subscription offers and, the Kindle e-reader, and a publishing unit.
"The three big ideas at Amazon are long-term thinking, customer obsession, and willingness to invent," he said to Fortune last year. He echoed that sentiment today, in reference to the Post: "I'm excited and optimistic about the opportunity for invention." With journalism's transition to digital still incomplete, there's plenty of room for Bezos to try new forms of storytelling and new business models.
He gets the Internet
No surprise here, but it's especially important for the digitally-backward Post. "The Internet is transforming almost every element of the news business: shortening news cycles, eroding long-reliable revenue sources, and enabling new kinds of competition, some of which bear little or no news-gathering costs," said Bezos today, and boy, does the Post know it. Slow to adapt online, the paper has had its lunch all but devoured in D.C. by Politico, and instituted a paywall this year in an attempt to salvage its web earnings. Bezos, on the other hand, is a creature of the Internet and understands the value of speed and volume: He invested $5 million earlier this year in the instant-news site Business Insider, and has put money into ventures like ZocDoc, AirBnB, and MakerBot.
He also knows what's it like to fail online: In 1999, he bought a majority stake in Pets.com, as the Post noted its announcement, in addition to putting $60 million into Kozmo.com, neither of which exist any more.
He's independent and private
Unlike Sam Zell, who took on the struggling Tribune Company in a convoluted deal that ensured he couldn't lose money, Bezos is buying the Post outright, in cash, for $250 million, and taking it private. Not having to answer to the stock market could make it easier for Bezos to put journalism first. And while the personality and politics of a single outsized owner usually comes with concerns — be it with Rupert Murdoch, Warren Buffett, or Boston Red Sox owner John Henry, who's buying the Boston Globe — they also have a better track record as publishers than conglomerates. Amazon's PAC has given to about evenly to both parties and his views on foreign policy are not well known. He and his wife donated $2.5 million to fight for same-sex marriage in Washington State, but there's little to indicate his purchase of the Post is a political play as much as its another pet project, not unlike his intense interest in space travel.