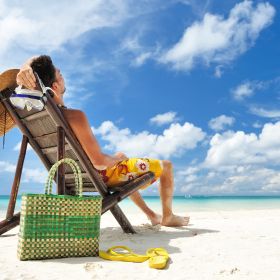 If you're like me, your e-mail in-box is probably filled with vacation auto-replies with subject lines like "Out of Office" and "Away From Desk." It's the end of summer, and even the unlucky souls who remain at work this week will duck out early on Friday to beat traffic and get a jump on the three-day weekend.

You don't really need to put up an auto-responder for Labor Day weekend, since it's more or less assumed that you're not working. But if you must inform e-mailers of your absence, be warned: The auto-responder is a delicate art. And, as with any art, what you leave out is just as important as what you put in.
Here are the seven kinds of auto-responders to be avoided at all costs:
1. The Location-Brag
An auto-responder that says, "I'm sunning myself on a pristine beach in Santorini and will have limited access to e-mail until Tuesday" might be an accurate reflection of your travel plans. It's also going to make you look like an asshole.
2. The Seniority Show-off
On a similar note, please do not conclude your away message by reminding others of the power you wield at work. ("If you need immediate assistance, please contact my executive assistant at kathleen@megacompany.com, or my associate executive assistant at tabitha@megacompany.com, or my executive assistant's executive assistant at meredith@megacompany.com.") We get it — you're rich.
3. The Overly Complicated Reply Process
If your auto-responder includes more than two ways to get in touch with you in an emergency, you're doing it wrong. By the time you get to "If your message is urgent, contact me through awayfind.com/joeschmoe, then text '50445' to my Google Voice number, then shoot an e-mail to vacationjoe@gmail.com," we've already given up. This is an out-of-office message, not a last will and testament.
4. The Workaholic Feint
You don't need to tell us that you're "traveling for work" on Labor Day weekend. You're playing beer pong at a barbecue. We know.
5. The Not-Even-Pretending-I'm-Going-to-See-This-E-mail Note
You may never be able to respond to every e-mail that arrives during vacation. That's okay. What's not okay is saying, straight-up, that you won't even look at the e-mails you get. When your auto-responder says, "If you want to reach me, re-send your e-mail after September 3," you're implying that you're sooo cool and sooo popular that you'll be faced with mountains of e-mails when you return, and you can't be bothered to sort through even the most important ones. Which, unless you're a Cabinet member or a Fortune 500 CEO, probably isn't true.
6. The "Sporadic" Lie
Has there ever been a less true sentence in the English language than "I will be checking e-mail sporadically"? Please. This is the age of the push notification. If you have your phone on you, you're going to see every e-mail within minutes of its arrival. If you're going to leave your phone behind while you scale Kilimanjaro/go kayaking/drink caipirinhas in Quogue, you won't have any e-mail access at all. In 2013, there is no middle ground.
7. The Option-Giver
This auto-responder is the textual equivalent of a too-long phone routing system. "If you're a member of the media, please call Matt at 212-123-4567. If you're a client wanting to get in touch, please e-mail clients@megacompany.com. If you're a close personal friend, please text my cell phone. If you need to speak with me regarding my charity work, please e-mail my philanthropic liaison at mark@givesalot.com." One reliable point person, who can direct people to the others, will do.
(Note: An even worse corollary to the Option-Giver is the Humorous-Option Giver, which includes items like "If you're a Nigerian prince looking to partner with me on an exciting investment opportunity, my bank routing number is 234-5678." Do not, under any circumstances, do this.)

So, What Should I Do?
The perfect e-mail auto-responder follows this basic template: "I will be out of the office until Tuesday, September 3. If it's an emergency, please contact John at 212-123-4567. Otherwise, I will get back to you when I return."
You can try being clever, like this honest auto-responder by venture capitalist Josh Kopelman. But be warned: Going freestyle is rarely the right call, and yours will probably not be half as funny. So just be honest, succinct, and straightforward. And enjoy the beach.