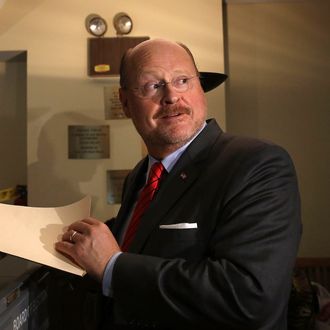 Photo: Spencer Platt/2013 Getty Images
For some New Yorkers, there is only one fact you need to know about the man pictured above: He is not CNBC's Jim Cramer or the guy who controls the Fed. The rest of you will recognize Joe Lhota as Rudy Giuliani's former deputy mayor, the MTA chief who got the subways running after Hurricane Sandy, and the Republican who could be New York City's next mayor (if Bill de Blasio loses his 40 point lead by November 5). But those biographical details just barely begin to scratch the surface of a man who is perhaps not as boring as he may seem. Here are eighteen pieces of Lhota trivia that may help animate the man behind the beard. 
1) His father was an NYPD officer, his paternal grandfather was an FDNY firefighter, and his maternal grandfather was a New York City taxi driver. It's almost like he was created in a lab so that one day Giuliani could declare, "Joe is New York" in a campaign ad.
2) He has various religious demographics covered as well. While he was raised Catholic and identifies as Christian, his maternal grandmother was Jewish. He hasn't played up his heritage to score points with Jewish voters, saying, "I think that would be patronizing."
3) Lhota was the first member of his family to attend college. He graduated from Georgetown University in 1976 and received an MBA from Harvard Business School in 1980. His only child, Kathryn, is a senior at Georgetown.
4) After college he worked as an investment banker for fourteen years. His wife Tamra, a GOP fund-raiser, got involved with Giuliani's 1989 mayoral campaign before he did.
5) While the Lhotas have been far less visible than the De Blasio clan, both Tamra and Kathryn are working on the campaign.They filmed this interview with the Daily News:
6) Remember the Giuliani administration's showdown with the Brooklyn Museum over a portrait of the Virgin Mary that involved elephant dung? A lot of that was Joe Lhota! As deputy mayor, he spearheaded negotiations with the museum, threatening it with eviction and funding cuts. He admitted recently that his legal argument was flawed, saying, "I have a much clearer understanding of the First Amendment now."
7) When asked if he's ever screwed up, he said, "In college I drank and had a little fun. And kinda stole newspapers thrown at neighbors' doors, which I read neatly then replaced. Maybe they'd wonder where the coffee stains came from."
8) The youthful shenanigans didn't stop at borrowing other people's newspapers. He met longtime friend Charles Crimi in a Georgetown dorm in 1974. After a night of drinking, Lhota mistook Crimi's room for his girlfriend's. When Crimi answered the door, Lhota threw up on his shoes.
9) His favorite band is the Allman Brothers and he doesn't own an iPod.
10) Lhota was diagnosed with lymphoma in 2005, which he attributes to months of breathing contaminated air at Ground Zero, and is now in remission. He always wears a blue rubber bracelet that says "Fear Nothing," which friends gave him during treatment.
11) He was once praised in the New York Times for his amusing and prolific tweets, ranging from his thoughts on the cancellation of Jersey Shore to an admission that he had been tweeting after "too much wine." He made the disappointing decision to stop sharing his personal musings when he launched his campaign.
12) When the Times noted his fondness for @DrunkHulk, the surly superhero responded, "Now I'm responsible for Lhota too?" "That's when I said, 'I got to meet this guy,'" Lhota told Politicker. "I actually saved it, somebody framed the tweet for me."
13) He previously described himself as a libertarian, and said in an argument with a Twitter follower, "Don't confuse libertarianism with tea party crap."
14) Though Lhota would have sacrificed the subway kittens to keep the trains running on time, he does have a soft spot for some animals:
15) When his 15-year-old black Lab had to be put down last month, he tweeted, "R.I.P. Harmony (1998-2013). I'm so sorry you didn't get a chance to run on the Gracie Mansion lawn. XXXOOO"
16) Lhota has had a beard since college, and if he wins, he'll be the first bearded New York mayor in 100 years.
17) He's passionate about eating protein for breakfast. When asked what he ate during Hurricane Sandy, Lhota told the Observer, "Even in the middle of the storm, I had what I always have — an omelet with two sausage patties. It's what I eat every morning. Would that be a cheese omelet? Is there any other kind? I don't put shit in them. Who needs onions in the morning? It's all protein, no carbs for breakfast, and that's the only thing I eat until dinner time."
18) Weiner isn't the only mayoral candidate who's flipped off a reporter. After Lhota refused to answer questions or pose for a picture back in 2000, a Times journalist noted that the photo would show off his recent weight loss. "Lhota rolled his eyes, smiled wickedly, and cheerfully made an obscene gesture," the paper reported. In 2012, he proudly showed the article to a Capital New York writer. "Did you get to the part yet where I gave her the finger?" he asked. "My mother gave me a tongue-lashing when she read that."