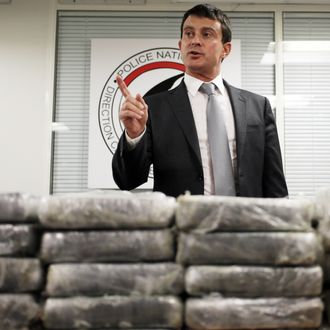 French interior minister Manuel Valls with 1.3 tons of cocaine.
During a press conference in the Parisian suburb of Nanterre on Saturday, French prosecutors announced the country's largest ever cocaine seizure. Here's how it went down: Air France authorities became suspicious when passengers who'd checked 31 suitcases onto a Paris-bound flight leaving the Venezuelan capital of Caracas on September 11 never actually boarded the plane. Once the flight arrived at Charles De Gaulle airport, the airline discovered that the unaccompanied bags contained 2,866 pounds (or 1.3 tons) of pure cocaine. A second bust was made from a cocaine-laden truck leaving eastern France for Luxembourg for a total reported street value of $270 million.
Interior Minister Manuel Valls called the seizure a result of cooperation between security forces in France, the Netherlands, Spain, and Britain, while according to Reuters, the public prosecutor's office in Caracas is also investigating the case. Air France spokesman Herve Erschler said the airline is "cooperating closely with the Interior Ministry, which has requested maximum confidentiality in this investigation" and that an internal investigation is also underway, one that will likely lead to "immediate measures…to enhance checks of baggage and goods on departure from certain sensitive destinations." We keep telling you to not do cocaine, and now there will be longer lines at airport security because you just won't listen.