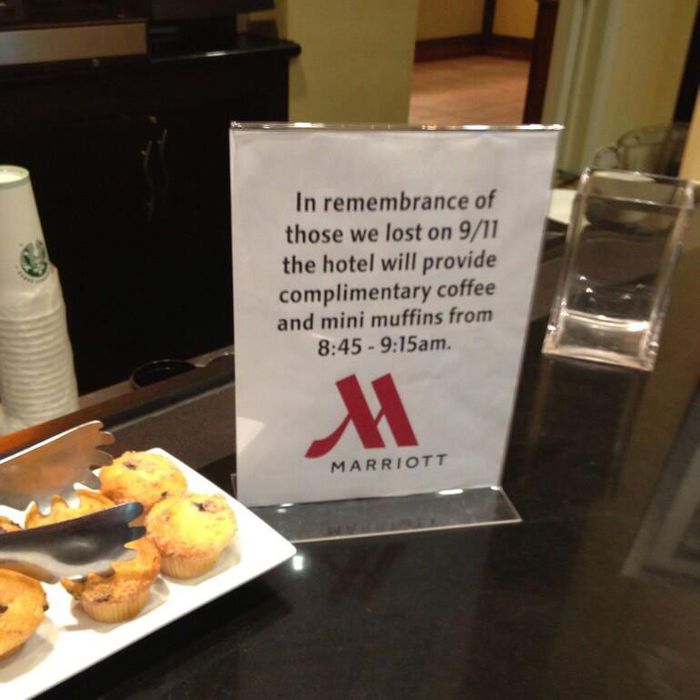 Today marks the twelfth anniversary of the terror attacks of September 11, 2001. It is a day marked by solemn ceremonies, silent prayer, and, per custom, incomprehensibly boneheaded tributes by giant multinational corporations. 
Behold: a sign on display at a Marriott somewhere in the world and shared on Twitter by @eclectrica. Yes, in honor of the thousands who perished, this Marriott has decided to offer free coffee and mini-muffins for half an hour. Not even full-size muffins — mini-muffins. For half an hour. One half of one hour. Smaller-than-normal muffins.
When your 9/11 tribute is indistinguishable from the spread you might offer to the Dog Groomers of Pennsylvania and Ohio's annual conference in Ballroom B, you have failed. But at least the promotion was the innocent mistake of one person who meant well, even if he or she happens to be the most tone-deaf person in the world. A Marriott spokesman tells Daily Intelligencer:
We are aware of the picture that was tweeted. It shows an offer that was made independently by the hotel and not the Marriott Hotels brand. As far as we know, it was limited to one property. While the hotel was making a sympathetic gesture to its guests in remembrance of 9/11, we apologize and understand why some people may have misunderstood the intent of the offer. We are reminding our hotels to use discretion and be sensitive when remembering major events such as 9/11.
Much worse, to us, is this adver-memorial that AT&T tweeted out earlier today, before deleting it and apologizing.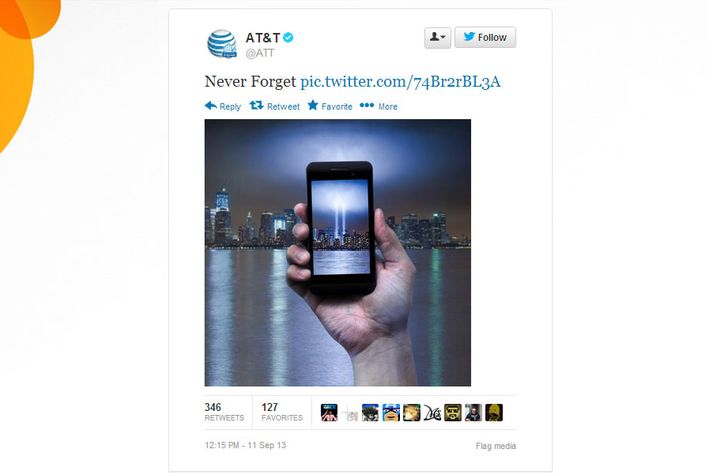 The message here is twofold: Never forget 9/11, sure. But also, never forget anything when you have an AT&T-equipped smartphone! 
This was not an impromptu decision by one wayward AT&T employee. E-mails were shared about this. Meetings were held. Designs were built, examined, tweaked. Many people were involved. And throughout the entire process, nobody apparently stopped to think, Wait, is it definitely a good idea to exploit a national tragedy to sell cell phones? Or maybe someone did object, and they were overruled. Don't be ridiculous. We'll be observing the deaths of thousands and selling cell phones simultaneously. It's a great idea.