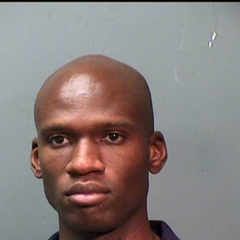 The man responsible for killing twelve people in yesterday's Navy Yard attack stopped by Sharpshooters Small Arms Range in Virginia on Sunday to buy a shotgun and ammo, the Associated Press reports. While he was there, Aaron Alexis also rented a rifle and used the shooting range. A background check, the store said, turned up nothing.
Alexis, we now know, had a history of gun-related arrests, although he never faced criminal charges. He was cited for misconduct at least eight times while in the Navy, but his latest employer, the government subcontractor the Experts, said its own checks into Alexis's past turned up nothing more than a ticket.
"The suspect had been employed by The Experts for approximately six months over the last year, during which time we enlisted a service to perform two background checks and we confirmed twice through the Department of Defense his Secret government clearance," a spokesperson told Mother Jones. "The latest background check and security clearance confirmation were in late June of 2013 and revealed no issues other than one minor traffic violation."
Yesterday we found evidence of Alexis's 2010 arrest for discharging a firearm in Fort Worth using Google.
More recently, Alexis called the police himself in Newport, Rhode Island, where he claimed "[an] individual that he got into [an] argument with sent three people to follow him and keep him awake by talking to him and sending vibrations into his body." According to the police report, Alexis said he changed hotels twice, but the voices followed him and "[used] a microwave machine sending vibrations to his body so he cannot fall asleep":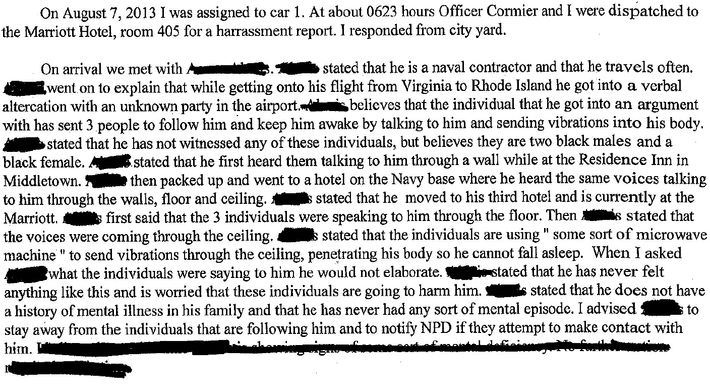 A year earlier, Alexis had traveled to Thailand for more than a month. (The New York Times reports, "In recent years, Mr. Alexis dated a Thai woman and began showing up regularly at Wat Busayadhammavanara, a Buddhist Temple," along with working in a Thai restaurant.) According to a friend, while on the trip Alexis developed a "crush" on a Thai woman, who refused to come back to the United States to be with him, Alexis said, because she "didn't like black people."