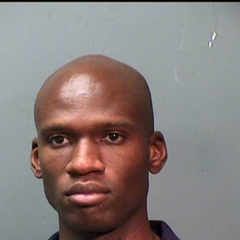 The man allegedly responsible for killing at least twelve people and injuring multiple others at the Washington Navy Yard in D.C. this morning is 34-year-old Aaron Alexis, originally of Fort Worth, Texas, according to reports. (NBC News' Pete Williams and CBS were the first to name the shooter. Officials confirmed the name to the Washington Post.) Alexis, who was recently hired as a civilian contractor for the Navy, was reportedly armed with a rifle, an AR-15, and a handgun when he stormed the naval headquarters before 8:30 a.m. He may have used the I.D. badge of another employee to gain entry to the building, according to NBC, leading to a false identification of the suspect earlier in the day. Alexis has been confirmed dead.
"He was tall. He appeared to be dark-skinned," said a witness, according to the Washington Post. "He was a tall black guy. He didn't say a word."

Alexis was arrested in Fort Worth in 2010 for discharging a firearm and can be seen in the attached mugshot.
The 2010 incident occurred when Alexis fired a shot through the floor of his upstairs neighbor. "He said that he was trying to clean his gun while cooking and that his hands were slippery. He told me that he began to take the gun apart when his hands slipped and pulled the trigger, discharging a round into the ceiling," according to the police report obtained by the Star-Telegram.
Although officers on the scene found a gun covered in oil and a cleaning kit, the neighbor said she was "terrified" and believed he did it on purpose because of past disputes over noise. Alexis was not formally charged.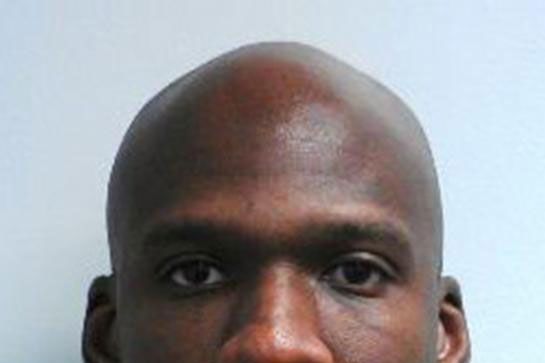 "He lived with me three years," a Texas man named Nutpisit Suthamtewakul told the Star-Telegram, calling Alexis his "best friend." He said Alexis had been working for a computer contractor. "I don't think he'd do this," said Suthamtewakul. "He has a gun but I don't think he's that stupid. He didn't seem aggressive to me." Alexis's motive remains unknown.
A friend said the suspected shooter was Buddhist and that he "loved to go to temple, go to meditate in Thai and English."
"Oh boy, I can't believe this," said Somsak Srisan, the landlord at Alexis's last known address in Texas. "He was always very polite to me … My feeling is if he was angry about anything, he didn't show that to me." Alexis has not lived at the Fort Worth address for six to eight months, he said.
Alexis was reportedly born in New York City, and later lived in Flushing, Queens, between 2000 and 2002.
Reports that more than one shooter was involved have not been confirmed. Police continue to seek a black male between 40 and 50 years old with gray sideburns for questioning.
The FBI has released a bulletin on Alexis seeking more information: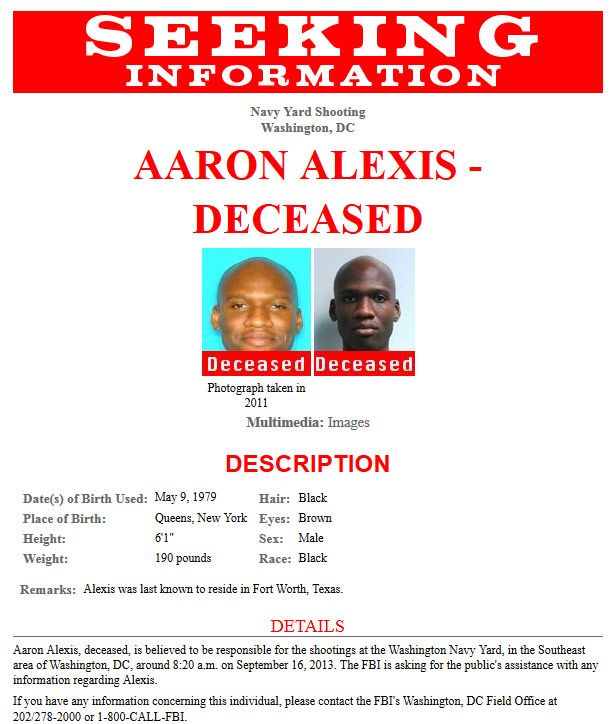 Update, 6:15 p.m.: Alexis had an earlier gun-related arrest as well. In 2004, he was accused of firing multiple shots into the tires of a car during a rage blackout, according to Seattle police. Afterwards, he invoked 9/11:
Alexis also told police he was present during "the tragic events of September 11, 2001″ and described "how those events had disturbed him."

Detectives later spoke with Alexis' father, who lived in New York at the time, who told police Alexis had anger management problems associated with PTSD, and that Alexis had been an active participant in rescue attempts on September 11th, 2001.
Alexis enlisted in the Navy in 2007, and left the service in 2011. He was ranked an aviation electrician's mate 3rd class.