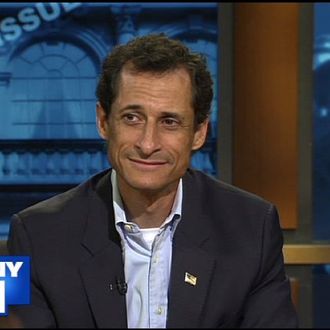 Photo: Courtesy NY1/Courtesy shot
It became fairly obvious in the waning weeks of his mayoral campaign that Anthony Weiner was looking around for a post–Sept. 10 line of work that did not include continuing to run for mayor, but did include continuing to be on camera. On Tuesday, he tried out the role of pundit for the first time, and it fit him rather well. The former candidate, once full of spit and vinegar for everyone from reporters, to hecklers, to other reporters, seemed relaxed, contemplative, and lucid on NY1's Wiseguys segment with Errol Louis. He made some self-deprecating jokes ("I'm not good at gaming out my own campaign, let alone other people's"), and engaged in some honest post-election analysis. He looked good out there.
"There is this level of concern out there that Bill de Blasio tapped into, did it skillfully. He won, I lost," Weiner said. He conceded that voters weren't ready to forget his past, and he didn't seem to be taking the whole thing very hard. It was a far different Weiner than we saw storming through that McDonald's on election night.
Weiner told the New York Daily News, "I doubt they invite me back." But whether he's on NY1 or in some other forum, don't expect this to be the last television appearance for Anthony Weiner.