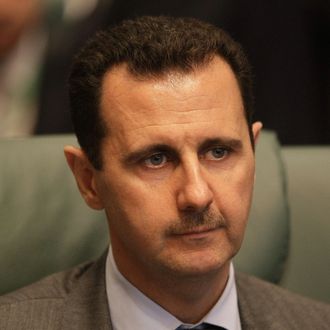 President Bashar al-Assad.
Photo: JOSEPH EID/2010 AFP
Syrian President Bashar al-Assad responded to days of threats from the U.S. and France on Monday, challenging the two nations to present proof that he used chemical weapons. "Obama and Hollande have been unable to do so, even to their own people," Assad said in an interview with the French newspaper Le Figaro. He went on to question the logic of his army using nerve gas "in an area where it is actually present and where soldiers have been wounded by these weapons," and warned that a military strike against Syria could start a larger conflict:
>
The Middle East is a powder keg, and today the flame is coming very near. We cannot talk merely about the Syrian response, but about what might take place after the first strike. But nobody knows what will happen. Everyone will lose control of the situation when the powder keg explodes. Chaos and extremism will spread. There is a risk of regional war.
"There will be repercussions, negative of course, for the French interests," added Assad. Khaled Abboud, a Syrian parliament member close to Assad made a less vague threat on Monday, telling The Wall Street Journal that Syria and its ally Hezbollah will retaliate in the event of a U.S. strike. "In my assessment, Hezbollah will side with Syria in certain operations targeting warships in the Mediterranean," he said.
Meanwhile, the New York Times reports that a consensus is emerging among members of Congress, at least on whether Assad gassed his own people. "The debate is shifting away from, did he use chemical weapons, to what should be done about it?" said Rep. Adam Schiff, a California Democrat, following a telephone briefing to the House Democratic Caucus by top Obama administration officials on Monday.
Specifically, many lawmakers from both parties have complained that the Obama administration's authorization proposal is too open-ended, and want to add an expiration date, as well as a ban on putting troops on the ground. A White House official said they're open to reworking the language in the resolution, "within the parameters that (the) president has previously explained."
Others still say the Obama administration isn't going far enough to support the Syrian rebels. Senators John McCain and Lindsey Graham, who have long been the most prominent hawks on Syria, had an hourlong meeting with President Obama at the White House on Monday, which they said was "encouraging." The senators suggested their vote in contingent upon the president outlining a strategy to turn the tide of Syria's civil war against Assad, but they also urged fellow members of Congress to support the authorization.