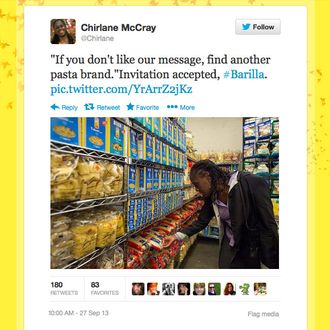 One day after the world's least savvy business executive declared that Barilla doesn't have a very high opinion of gay people and doesn't much want them as customers, Chirlane McCray — who used to identify as a lesbian but doesn't anymore, but still supports gay equality, obviously — announced on Twitter that she would be buying other pastas from now on. Dan Levitan, a spokesman for the De Blasio campaign, tells Daily Intelligencer that the same goes for husband Bill.
But Joe Lhota's spokesperson, Jessica Proud, tells us that Lhota will be boycotting Barilla as well. "Joe and Bill agree," she said. "He will not use their products and vehemently disagrees with the statements made."
And thus the city's prized gay pasta-eating voting bloc remains up for grabs.