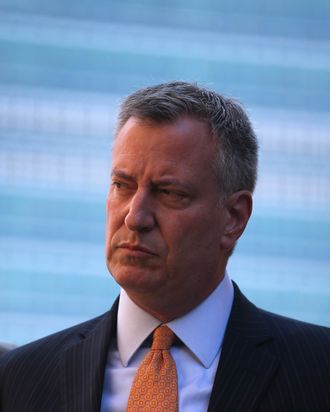 Democratic nominee for New York City mayor Bill de Blasio attends a press conference outside the United Nations Headquarters on September 23, 2013 in New York City. At a media event held by the Jewish Community Relations Council of New York, he and other NYC leaders spoke out urging the Iranian government to halt nuclear enrichment.
Photo: John Moore/Getty Images
Bill de Blasio released a new and previously unknown detail about his estranged late father, a World War II veteran who suffered from alcoholism. "While this has been a private part of my family's life, it is now clear a media story will soon emerge," a short statement read. "My father tragically ended his life while battling terminal cancer in 1979." A few minutes later, the Post's story, well, emerged.