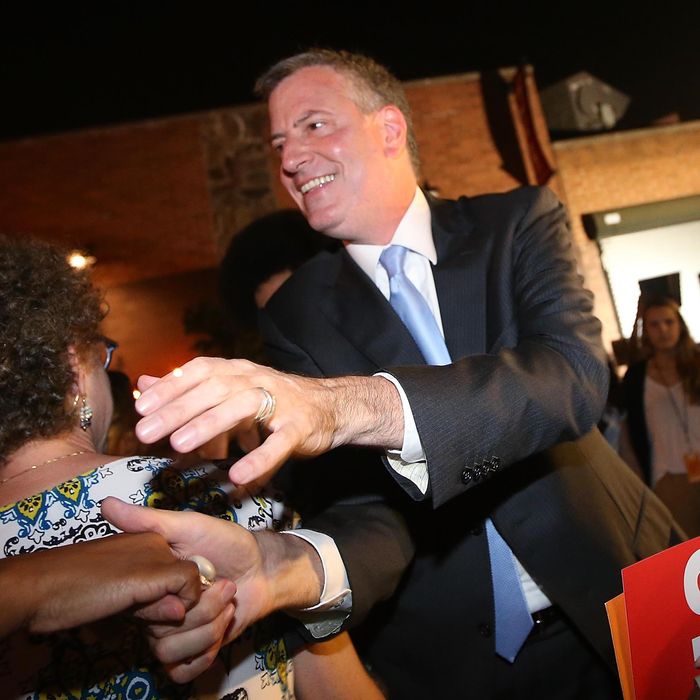 Photo: Mario Tama/2013 Getty Images
Bill de Blasio was riding to yet another appearance when he got a phone call telling him a new poll would show he had suddenly, for the first time, jumped into the lead in the Democratic primary. De Blasio's reaction? To check that the call wasn't a prank.
Exactly four weeks later, de Blasio is the party's likely nominee and the favorite to succeed Michael Bloomberg as mayor. It's been a dizzying month, and de Blasio capped it today with a remarkably thorough victory — regardless of whether the final Board of Elections tally, which looks like it won't arrive until next week, shows him a tick above 40 percent or a tick below. What's striking isn't simply that he beat five opponents, most prominently Christine Quinn and Bill Thompson, but how de Blasio won, and where his votes came from.
His first job in City Hall was as a low-level aide to Mayor David Dinkins, who made the term "gorgeous mosaic" briefly fashionable. Now de Blasio is redefining what it means to assemble a diverse coalition. In a city where tribal politics have ruled for generations, de Blasio appears to have grabbed at least one-third of every major ethnic group's votes; he may win more female votes than the female candidate and as many black votes as the black candidate. The transplant from Cambridge, Massachusetts appears to be winning more Brooklyn votes than a native son, Thompson — and Brooklyn, further cementing its stature as the city's new center of gravity, could produce a greater turnout than Manhattan. It looks like he will beat Quinn in her own council district. The ad featuring his son scored because it was charming — but it was politically powerful because de Blasio didn't target it at any particular audience, aiming in tone for it to be broadcast, in the literal sense. According to a top de Blasio aide, it was the biggest single ad buy of the primary — about thirty percent larger than the second-place spot, a Quinn commercial. 

That the de Blasio family is a telegenically diverse coalition all by itself certainly helped. But the candidate was able to successfully appeal across traditional lines in large part because he developed a clear message based more in economic guilt and worry than in identity politics. When I talked with de Blasio about his campaign plans way back in October 2011, he hadn't yet hit on his "tale of two cities" slogan — he was using the clumsier phrase "income disparity" — but he had already focused on what he believed would be the defining issues. "There's a tremendous sense of economic insecurity," he told me. "You feel it particularly intensely in the outer boroughs, you feel it in families that consider themselves solidly middle class but are worried —they're worried about the consistency or the durability of their job, they're worried about whether they can pay for their kids' educations. And then I think of course every election is to some extent a referendum on the previous officeholder. [By 2013] there will be incredible Bloomberg fatigue."

De Blasio analyzed this as a "change" election; Quinn, the frontrunner most of the way, saw an electorate basically happy with the city's direction. Thompson was somewhere in the middle, which is where he seems to be finishing, overtaking Quinn for second place and hoping for a chance at a runoff. Tonight, de Blasio's reading of the city's mood was proven decisively correct — well, at least his reading of the mood of the 300,000 or so voters who pulled his lever. They've made de Blasio the first non-Jewish white candidate to win the Democratic primary in 44 years — since Mario Procaccino, in 1969, for you political trivia buffs. Procaccino went on to lose the general election to the incumbent, John Lindsay, a former Republican. Whether he wins the primary outright or enters a runoff against Thompson as the heavy favorite, De Blasio seems headed for a general election matchup with Joe Lhota, an actual Republican, in what should be an intriguing contrast of ideologies. Ever the tactician, de Blasio has already started talking up his practical governmental experience, to counter what will likely be a main Lhota attack. But while it's true that New Yorkers want to be confident they're electing someone competent, de Blasio's big primary win shows that after twelve years of Bloomberg, a changing city seems to want something more than a manager.