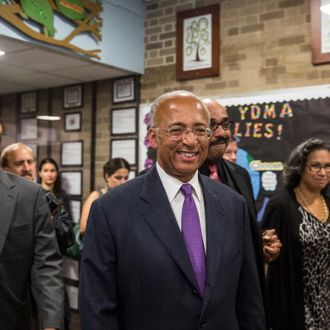 Photo: Andrew Burton/Getty Images
Bill de Blasio addressed the question of a possible runoff in the mayoral primary for the first time on Thursday, telling Al Sharpton on Politics Nation he didn't think there was going to be one. "I think the numbers will be consistent throughout the count and we will break that 40 percent number," de Blasio said, after Sharpton introduced him as "the presumed Democratic nominee." Very shortly afterward, Bill Thompson finished a meeting with his key backers and said he had no plans to concede the race, as many high-profile Democrats (including Sharpton himself) have pressured him to do. "It continues to become clearer and clearer that there are tens of thousands of votes that are out there. We believe that the votes should be counted," Thompson said in the lobby of the United Federation of Teachers. But few, even among his own supporters, seem convinced he has a shot.
With 99 percent of precincts reporting, de Blasio finished Tuesday with 40.3 percent. He needs 40 percent to avoid a runoff. But as Politicker notes, "according to the latest Board of Election tally, there are nearly 80,000 paper ballots yet to be counted, including absentee, military and emergency ballots filled out by voters whose names could not be found on the rolls." With a margin of error that slim, Thompson understandably wants to see this all the way through. But de Blasio is already drawing in some heavy-hitting supporters. The Clintons "kindly both called to congratulate and I asked their advice and we'll see what happens going forward," he said.
The problem for Thompson is that with all those high-profile Democrats flocking to de Blasio, he's going to have a shortage of supporters going into a possible runoff vote. Even U.S. Rep. Charlie Rangel, who appeared with Thompson on Thursday, sounded more like someone who just wanted to see a task through than one who wholeheartedly believed his candidate would win. "All we need is to find out where the votes are," Rangel said. "I mean, we're not talking about unification, we're talking about counting the votes … No one disagreed that before we can go back to the people that supported him, they gotta ask how many votes are out."
Thompson has until midnight Friday to concede and avoid a runoff, even if there technically could be one. One does not envy his next 24 hours.