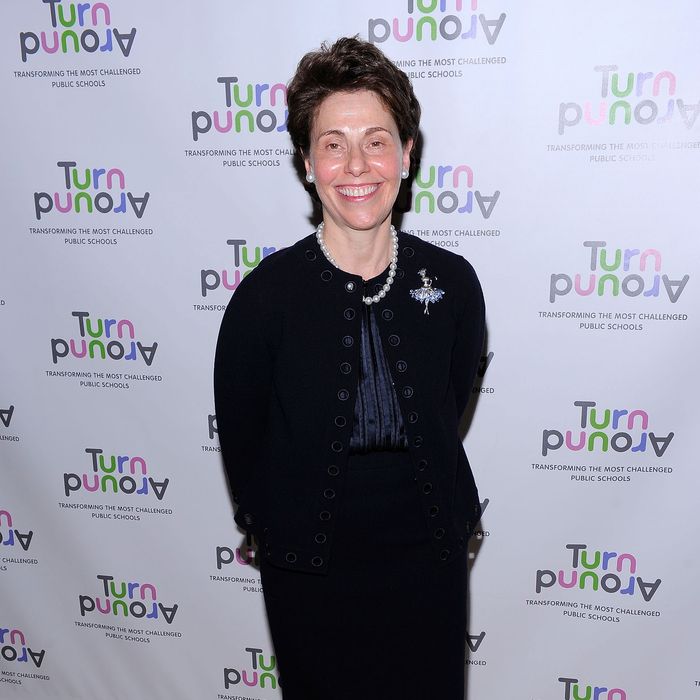 You can't tell from looking at her, but Merryl Tisch is strong enough to throw a grown man under a bus.
Photo: Jemal Countess/Getty Images
With the ballots still being counted in the mayoral race, and a re-count on the horizon, as officials try to determine whether Bill de Blasio received at least 40 percent of the vote (no runoff) or something like 39.98 percent of the vote (runoff on October 1), Bill Thompson says he's soldiering on. 
>
"I think that Bill de Blasio is over 40 percent by about 780 votes and there's still about 16,000 paper ballots to be counted," Mr. Thompson said. "I want to make sure that every voice is heard, every vote is counted. Why? Because that's why you run a race. That's why we're out here. You want to make sure that every vote is counted."
However, his campaign chairwoman, Merryl Tisch, the chancellor of the New York State Board of Regents, has had enough.
"I happened to look at the numbers and I think Mr. de Blasio won a very deep and wide, broad victory," she said, and added, "It's a convincing victory, and good luck. That's what elections are all about. I think the people have spoken. They've spoken decisively."
Awkward.