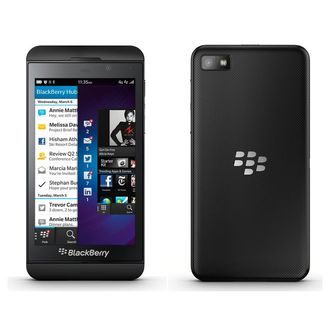 NOT GREAT, BOB.
Photo: Blackberry
After years of sluggish sales and instantly forgettable devices, BlackBerry today received what could amount to a mercy killing — a $4.7 billion buyout offer from Fairfax Financial, a Canadian conglomerate that was among the device-maker's largest shareholders. The offer of $9 a share, which amounts to 6 percent of the company's peak stock price, was seen as generous by many on Wall Street, since BlackBerry has been hemorrhaging money and market share for years.
But BlackBerry's remaining die-hard fans aren't impressed with Fairfax's offer. They took to the forums at Crackberry to register their shock, displeasure, and conspiracy theories.
Fairfax's $9 a share struck "CrackBerry Genius" Andrew4life as a bit low.

BlackBerry addict kfh227 promised to stand his ground.

Prem Watsa, the head of Fairfax Financial and a former BlackBerry board member, is an object of suspicion and conspiracy theories among many BlackBerry diehards, who suspect he's been artificially pushing down the stock price in order to buy the company for less.

Although some diehards blamed Watsa for stealing the company for a song, others were ready to place the blame on BlackBerry CEO Thorsten Heins. One poster theorized that "thorny" had intentionally driven down the company's stock price so that it would be bought out, triggering a provision in his contract that entitled him to a large severance package. (Nothing to do with unsuccessful devices at all!)

On the Kübler-Ross scale, some Crackberry addicts remained firmly at denial. This one suggested having a party when BlackBerry's stock price reached $100. (It's currently at $8.80.)

Some were taken aback by the deal because they were hoping that Lenovo would buy BlackBerry instead (a rumor that circulated last month).

And others, weary from years of mockery and derision of their beloved BlackBerry, were content to look on the bright side.

As I wrote last year, BlackBerry has been in a death spiral since the iPhone took over its U.S. customer base. Fairfax Financial is hoping to revive the company, if its bid is accepted and goes through. But judging from the forums where platform stalwarts go to vent, they're not going to have the support of many of the company's biggest fans as they try a turnaround.