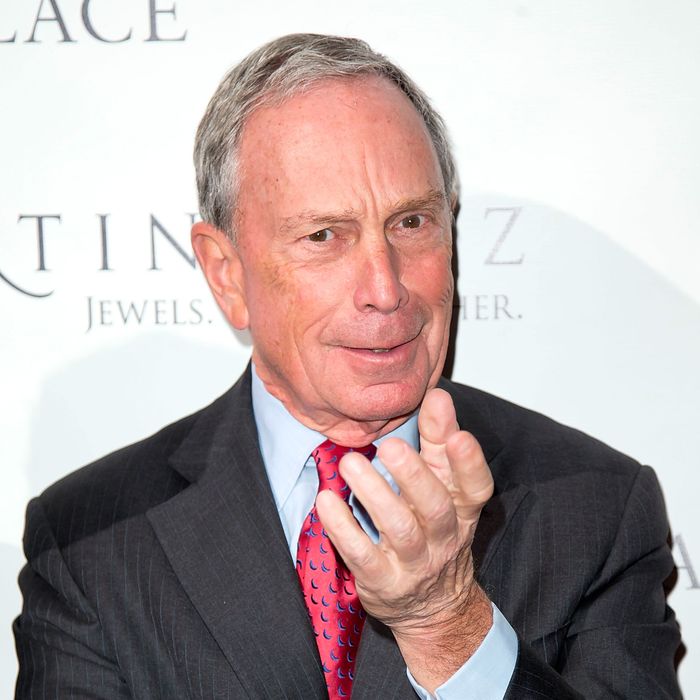 Bloomberg.
Photo: Ben Hider/Getty
Last week's successful recall of two Colorado state senators who had voted to enshrine two new gun-control initiatives into state law has been widely seen as a victory for the NRA and a major setback for the gun-control movement. Mayor Bloomberg, in particular, spent $350,000 to support one of the recalled senators, and his anti-gun group, Mayors Against Illegal Guns, sent staffers to help in the effort. But in a press conference today, Bloomberg offered a markedly different take on the election: "The NRA lost." Bloomberg argued that not only are the gun-control laws still in force, but that the recall of two measly state senators was fairly meaningless:
"Nineteen senators stood up to the special interest pressures and voted to pass a gun background check on all gun sales. Instead of challenging all the members that voted for the bill, the NRA picked out four of the most vulnerable … and tried to mount a recall election against them," Bloomberg said. "They failed to get enough signatures for two of the four … They did get enough signatures of two cherry picked races that — including one against someone who was term limited — leaving office in three months anyway — and they funded a major campaign to go after them."
Bloomberg further noted that the recall campaign involved all sorts of issues beyond gun control, which is true. One of the victorious Republicans even admitted as much:
Republican Senate candidate and former Pueblo deputy police chief George Rivera, said Giron had been hurt by her support for other laws, including legislation to allow cities in the Denver area to draw water from the Arkansas River basin at the expense of local communities.
Now, obviously, the NRA didn't "lose," exactly. There were two senators up for recall, and they were both recalled, which is what the NRA wanted and is what Bloomberg did not want. But Bloomberg does make a compelling case for a more nuanced interpretation of the overall recall effort.