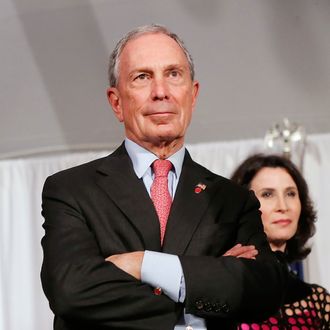 Photo: Jemal Countess/Getty Images
While Mayor Bloomberg tacitly supported Republican mayoral candidate Joe Lhota in his recent interview with New York by saying he thought the New York Times was "right" to endorse the former MTA chairman in the primary, it seems he will not officially back him — or, unsurprisingly, Bill de Blasio — in the general election. "I don't want to do anything that complicates it for the next mayor, and that's one of the reasons I've decided I'm just not gonna make an endorsement in the race," Bloomberg said during his weekly radio show this morning.
It could be that the mayor has realized his backing could actually hurt Lhota's chances of winning against De Blasio, who beat out his fellow Democrats by marketing himself as the anti-Bloomberg. Or perhaps he doesn't like the idea of attaching his name to what still looks like a very long-shot campaign. Or, in true Bloomberg fashion, he may be withholding his endorsement simply because he doesn't think Lhota is up to the task of succeeding him.