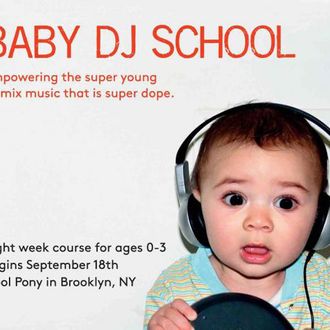 Like Twitter for Babies and Coffee for Babies (the "babyccino"), the D.J. class for preverbal humans found its spiritual home in Brooklyn. And while the media may have overblown its wide-eyed, winking coverage — which all occurred before a lesson even occurred — the phenomenon is now official. It went pretty much like you'd expect.
"The midi-trigger's connected to the laptop, the laptop's connected to the PA,"  the instructor, Natalie Elizabeth Weiss, told parents, to the melody of "Dem Bones," according to The Wall Street Journal's dispatch from the ground.
And while Weiss "refuses to use any music with profanity or sexism in her DJing work," only one of the little students was a girl (who attended "with her father"), which doesn't bode well for correcting the gender disparity in the field.
"He loves gangsta rap," said one mother of her 1-year-old. He must have been so disappointed.