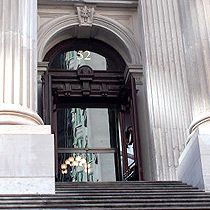 Photo: Courtesy of New York City Department of Education
When we last heard from William Abreu, the vice principal of Progress High School for Professional Careers, in Brooklyn, he was advising female students that they ought to suck his balls if they want to get ahead in this world. The latest accusation is even more disturbing. According to an Education Department investigation, Abreu sexually assaulted two students separately in his office — investigators say he raped one of them, gaining her silence by threatening to have her deported — and then turned the two victims over to Juan Martinez, the president of Progress, Inc., which founded the school. Martinez allegedly sexually abused the girls again, forcing one to perform oral sex. "It's even more horrifying because they were sharing these girls," Special Schools Investigator Richard J. Condon told NY1's Lindsey Christ.
In addition to the sexual assaults, the investigators' report accuses Abreu of stealing $1,500 from the mother of the girl he raped, by introducing her to a man he said was an immigration attorney, who charged her the money. After she handed it over, both men allegedly fell out of touch.
Abreu wouldn't comment on the allegations to the New York Times, but James Cullen, an attorney for Martinez, told the paper: "Mr. Martinez completely denies all the allegations of wrongdoing contained in the report and completely believes in his innocence." He'll likely get a chance to say the same thing to a court at some point, as Christ reports the Brooklyn District Attorney's Office is reviewing the cases against both men.