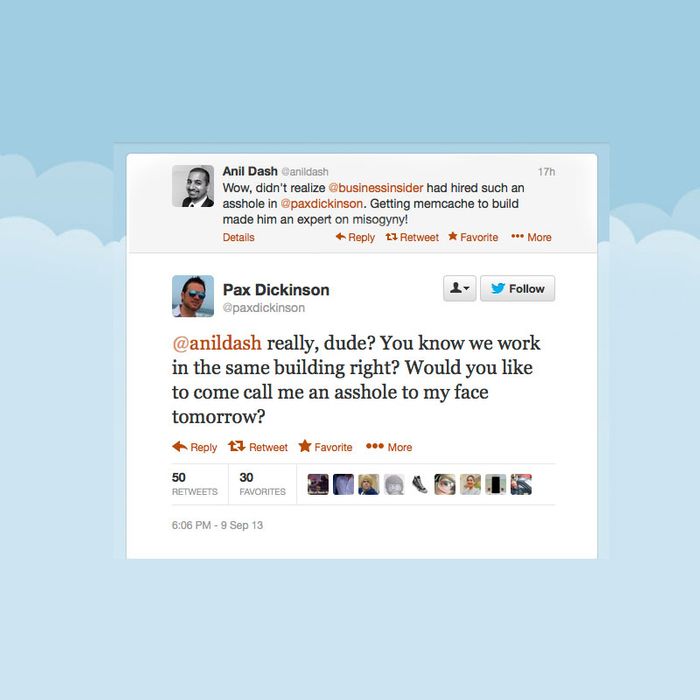 Pax Dickinson has been forced to resign as chief technology officer at Business Insider following an online firestorm over his long history of controversial tweets, according to a source who has been in contact with him. Dickinson got in hot water yesterday over his most recent string of tweets about feminism, misogyny, and women in tech. A look at his tweets from over the years uncovered many more instances of Dickinson bashing feminists, gays, and the poor, among others. An e-mail seeking comment from Dickinson was not immediately returned.
Update: Business Insider released the following statement:
A Business Insider executive has made some comments on Twitter that do not reflect our values and have no place at our company. The executive has left the company, effective immediately.

Business Insider's team is composed of more than 100 talented men and women of many backgrounds, and we highly value this diversity.
Betabeat notes that Dickinson is "still everything that's wrong with tech."
Mr. Dickinson is the most recent and potent example of sexism (and racism, and classism) in tech, but he's certainly not the only one. Such a rancorous person doesn't scale the corporate ladder–tweeting all the while!– without some sort of systemic acceptance (or at least tolerance) of his attitudes.