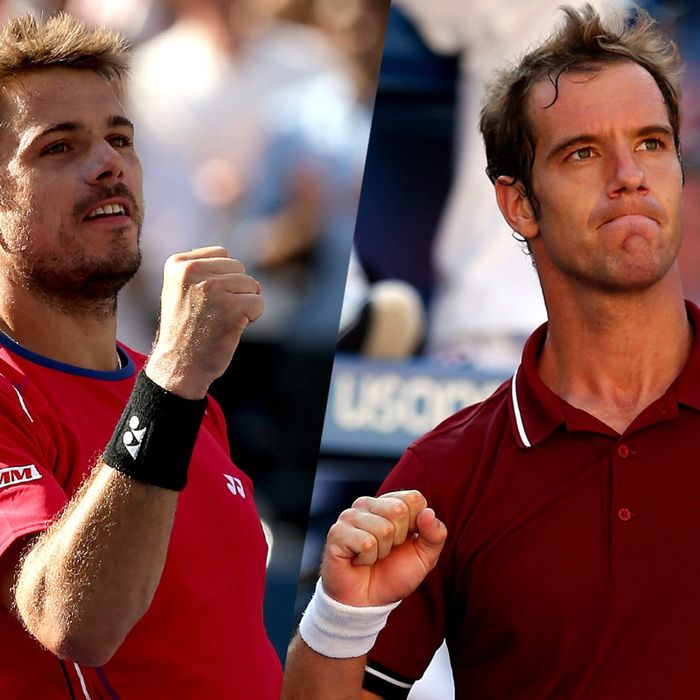 Wawrinka (left) and Gasquet (right).
Photo: Matthew Stockman/Getty Images, Elsa/Getty Images
Maybe you know how this goes. You're playing in-the-zone, hit-every-line super tennis. You're way up in score, ready to vanquish all the demons of brutal losses past. "You're actually going to win," you tell yourself. You toss the ball up. The points go by. Then a lost set. Then a shattered racket. How did that happen? You've blown it. Again.
At the highest levels of tennis, one thing that separates the all-time greats from the simply very good is that the legends have mastered the art of not blowing it. It's a mental thing, which is why so many top pros walk around the court like patients at an OCD seminar — Nadal picking his wedgies when he doesn't have them, Sharapova talking to the back wall, Djokovic bouncing the ball forever before his serve. Talent, as any player knows, only gets you so far.
In tomorrow's U.S. Open semifinals, what's noteworthy is that facing the great Nadal and Djokovic are two lesser-known talents notorious for blowing big matches. On the tour, Richard Gasquet and Stanislas Wawrinka, ranked ninth and tenth in the world respectively, are known for their ability to play out of their minds, rack up leads against better players, and then deflate like a popped ball.
Gasquet, who plays Nadal, is a tour leader of blowing it. So artistic and talented that he was dubbed "the Mozart of tennis" as a junior in the south of France, Gasquet has made a near-habit of using his scintillating one-hand backhand to perplex opponents and take two-sets-to-love leads, only to ultimately lose the match. "He's spoiled," former pro, coach, and analyst Jeff Tarango says of Gasquet. "He has too much talent. Imagine since you're 9 years old everybody has been calling you the Mozart of tennis."
This year, against the grinding and higher-ranked David Ferrer in the quarterfinals, Gasquet was about to implode again. Up two sets, Gasquet let Ferrer back into the match and entered what looked like a doomed fifth. Unusually, though, Gasquet found another gear, keeping his composure and serving with precision. The difference? "He found a new demon," Tarango says. Before the match, Gasquet learned that if he beat Ferrer he would become the first French player to reach a U.S. Open semifinal in more than a decade. Mentally, the stakes were different, and so were the fears.
Wawrinka also has a tendency to blow leads. Unlike his doubles partner and countryman Roger Federer, who until recently has been a master of maintaining advantages, Wawrinka's nemesis on the tour has been himself. In the semis he plays Djokovic, a matchup that has embodied how close to the best Wawrinka can be when his mental game improves. Twice in his career Wawrinka has used his booming one-handed backhand to take a set from Djokovic, only to struggle, reclaim ground to tie the match, and squander a fifth set. At the Australian Open this year, Wawrinka showed a renewed mental grit, fighting on late and over five hours to lose 12–10 in the fifth to Djokovic.
Wawrinka and Gasquet are part of the same tennis generation as Nadal, Djokovic, and Murray (himself an occasional blow-it artist). The dark side of their late twenties is fast approaching, and their moments to break into the top five are waning. They have armed themselves with new coaches — Gasquet actually seems to have a new team in his box ("Mozart can't only listen to one person," Tarango jokes) — and are poised to exorcise their mental demons, if only Nadal and Djokovic weren't in their way.
"The key mentally is to never be content," Tarango says. "If you're not always trying to make yourself better, you're getting worse." Tarango recalled his days as a pro, sharing a room with Pete Sampras. "For nine years, every night before he went to bed, Pete would ask himself, 'What do I need to do to become No. 1?' And every morning, when he woke up, he asked himself the same question. He did that every day for nine years. Is that normal? No, that's not normal."